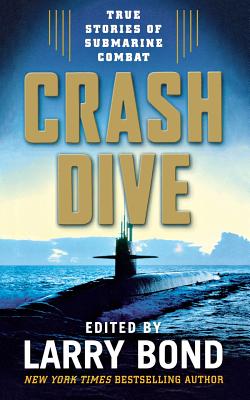 Crash Dive (Paperback)
True Stories of Submarine Combat
Forge Books, 9780765324573, 368pp.
Publication Date: March 29, 2011
Other Editions of This Title:
Paperback (3/29/2011)
* Individual store prices may vary.
Description
hey are the ultimate unseen deterrent in modern warfare. Thousands of tons of steel, missiles, torpedoes, and men, lurking silently hundreds of feet underwater, able to lie off any coastline and unleash a devastating hail of destruction with pinpoint accuracy. They are the true masters of the oceans, bringing hostile military sea traffic to a standstill, striking swift and unseen, and slipping away in an instant, ready to do it all over again at a moment's notice.
Edited by best-selling author Larry Bond, Crash Dive collects the best non-fiction excerpts about the mighty submarines and the crews that man them. From the tough Gato-class boats that harassed the Japanese Navy during World War II to the cat-and-mouse games played by U.S. and Soviet submarines during the Cold War, Crash Dive will take you inside the silent but deadly world of the military submarine.
About the Author
Larry Bond is the author of several bestselling military thrillers, including Crash Dive, Cold Choices, Dangerous Ground, Red Phoenix and the Larry Bond's First Team and Larry Bond's Red Dragon Rising series. He was a naval officer for six years, serving four on a destroyer and two on shore duty in the Washington DC area. He's also worked as a warfare analyst and antisubmarine technology expert, and he now writes and designs computer games, including Harpoon and Command at Sea. He makes his home in Springfield, Virginia.