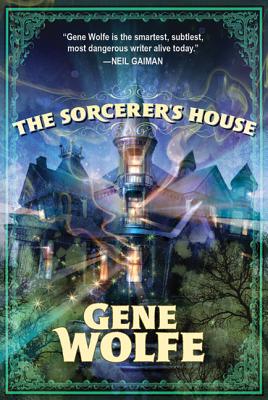 The Sorcerer's House (Paperback)
Tor Books, 9780765324597, 304pp.
Publication Date: March 15, 2011
Other Editions of This Title:
Hardcover (3/16/2010)
* Individual store prices may vary.
Description
In a contemporary town in the American Midwest where he has no connections, an educated man recently released from prison is staying in a motel. He writes letters to his brother and to others, including a friend still in jail. When he meets a real estate agent who tells him he is the heir to a huge old house, long empty, he moves in, though he is too broke to even buy furniture, and is immediately confronted by supernatural and fantastic creatures and events.
His life is utterly transformed and we read on, because we must know more. We revise our opinions of him, and of others, with each letter. We learn things about magic, and another world, and about the sorcerer Mr. Black, who originally inhabited the house. And then perhaps we read it again.
About the Author
Gene Wolfe (1931-2019) was the Nebula Award-winning author of The Book of the New Sun tetralogy in the Solar Cycle, as well as the World Fantasy Award winners The Shadow of the Torturer and Soldier of Sidon. He was also a prolific writer of distinguished short fiction, which has been collected in such award-winning volumes as Storeys from the Old Hotel and The Best of Gene Wolfe.
A recipient of the World Fantasy Award for Life Achievement, the Edward E. Smith Memorial Award, and six Locus Awards, among many other honors, Wolfe was inducted into the Science Fiction Hall of Fame in 2007, and named Grand Master by the Science Fiction and Fantasy Writers of America in 2012.
Praise For The Sorcerer's House…
"A complex, spellbinding web of otherworldly sorcery and hauntings. Both terrifying and touching, this book of wonders speaks eloquently about the nature of responsibility and family." —Publishers Weekly
"The Sorcerer's House is, without qualification, a masterpiece. A fascinating novel that repays close reading with a tale of delightful subtlety, wit, and true insight." —SFRevu.com
"If any writer from within genre fiction ever merited the designation Great Author, it is surely Wolfe." —The Washington Post Book World on Gene Wolfe
"Gene Wolfe is as good a writer as there is today. I feel a little bit like a musical contemporary attempting to tell people what's good about Mozart." —The Chicago Sun-Times on Gene Wolfe