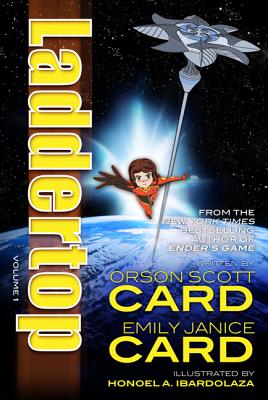 Laddertop (Paperback)
Seven Seas Entertainment, 9780765324603, 192pp.
Publication Date: September 27, 2011
Description
An original science fiction manga by the bestselling author of "Ender's Game "and his daughter
Twenty-five years ago, the alien Givers came to Earth. They gave the human race the greatest technology ever seen four giant towers known as Ladders that rise 36,000 miles into space and culminate in space stations that power the entire planet. Then, for reasons unknown, the Givers disappeared. Due to the unique alien construction of the Laddertop space stations, only a skilled crew of children can perform the maintenance necessary to keep the stations up and running.
Back on Earth, competition is fierce to enter Laddertop Academy. It is an honor few students will achieve. Robbi and Azure, two eleven-year-old girls who are the best of friends, are candidates for the Academy. They will become entangled in a dangerous mystery that may help them solve the riddle of the Givers...if it doesn't destroy the Earth first
About the Author
Orson Scott Card is the author of the novels Ender's Game, Ender's Shadow, and Speaker for the Dead. Ender's Game and Speaker for the Dead both won Hugo and Nebula Awards, making Card the only author to win these two top prizes in consecutive years. There are seven other novels to date in The Ender Universe series. Card has also written fantasy: The Tales of Alvin Maker is a series of fantasy novels set in frontier America; his most recent novel, The Lost Gate, is a contemporary magical fantasy. Card has written many other stand-alone sf and fantasy novels, as well as movie tie-ins and games, and publishes an internet-based science fiction and fantasy magazine, Orson Scott Card's Intergalactic Medicine Show. Card was born in Washington and grew up in California, Arizona, and Utah. He served a mission for the LDS Church in Brazil in the early 1970s. Besides his writing, Card directs plays and teaches writing and literature at Southern Virginia University. He lives in Greensboro, North Carolina, with his wife, Kristine Allen Card, and youngest daughter, Zina Margaret.
Advertisement