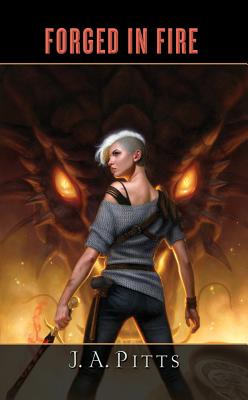 Forged in Fire (Hardcover)
Tor Books, 9780765324696, 428pp.
Publication Date: June 19, 2012
Other Editions of This Title:
Paperback (7/23/2013)
MP3 CD (5/31/2016)
* Individual store prices may vary.
Description
Sarah Jane Beauhall, the blacksmith turned dragon slayer, has it all figured out little things like dealing with the political intrigue of dragons who secretly run our world, and learning to wield the magic that she has been given by none other than Odin, who has been fighting the dragons for millennia. And then there is the matter of coming to terms with who she is and how to build a life with her partner, Katie.
All these things are forced into the background however when a magic-wielding serial killer starts prowling the Pacific Northwest. And all of his victims have ties to Sarah.
Sarah must unravel the web she finds closing around her as a powerful necromancer and a crazed blood cult known as the Dragon Liberation Front work to tear apart everything she holds dear.
"Forged in Fire" is the third volume in J. A.Pitts's compelling urban fantasy series.
About the Author
J. A. PITTS is a graduate of the Oregon Coast Writers Workshops and holds degrees in English and Library Science. Forged in Fire is the third title in Pitt's urban fantasy series.
Praise For Forged in Fire…
"Fans of the first novel will find this one equally enjoyable, as Pitts mixes familiar urban fantasy tropes with some new twists."  —Publishers Weekly on Honeyed Words
"Dark urban fantasy with come clever touches that should appeal to urban fantasy fans."
—Kirkus Reviews
"A hip, urban take on dragons and dwarves packed with great one-liners. Add to that, a sexy blacksmith in Doc Martens. It's about time we had a fantasy heroine like Sarah Beauhall!"
—Kay Kenyon, author of Bright of the Sky, on Black Blade Blues
"Endlessly entertaining. A colliding mix of action and ancient myth—yet sexy with a dash of tongue-in-cheek humor. Not to be missed!"
—Barb and J.C. Hendee, authors of the Noble Dead Saga on Black Blade Blues
or
Not Currently Available for Direct Purchase