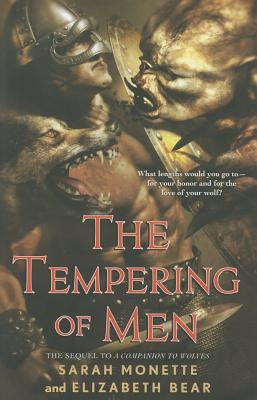 The Tempering of Men (Hardcover)
Tor Books, 9780765324702, 304pp.
Publication Date: August 16, 2011
* Individual store prices may vary.
Description
In Iskryne, the war against the Trollish invasion has been won, and the lands of men are safe again…at least for a while. Isolfr and his sister, the Konigenwolf Viradechtis, have established their own wolfhaell. Viradechtis has taken two mates, and so the human pack has two war leaders. And in the way of the pack, they must come to terms with each other, must become brothers instead of rivals--for Viradechtis will not be gainsaid.

She may even be prescient.

A new danger comes to Iskryne. An army of men approaches, an army that wishes to conquer and rule. The giant trellwolves and their human brothers have never hunted men before. They will need to learn if they are to defend their homes.
About the Author
SARAH MONETTE is the acclaimed author of "Melusine" and "The Virtue," as well as award-nominated short fiction.

ELIZABETH BEAR is a multiple Hugo Award-winner for her short fiction. Together, they are the authors of "A Companion to Wolves," to which this novel is a sequel.
Praise For The Tempering of Men…
Praise for A Companion to Wolves:

"Coauthors Monette (Mélusine) and Bear (Blood and Iron) combine their literary talents in a saga of warriors whose love for their wolves and for one other serves to bind them together into a band of fierce protectors. Recommended for adult-themed fantasy and fiction collections."--Library Journal

"It's not surprising either that [A Companion to Wolves] is extremely well written, and more suspenseful than most contemporary fantasy I've read."--Don D'Ammassa

"What Bear and Monette have done for wolves in this book is no more and no less than what Anne McCaffrey has done for dragons--they have made the wolf iconic, memorable, something larger than life...The storyline is gripping--I read this thing at a sitting--the writing is exquisite, and the book is destined to be a classic of its kind."--SF Site Reviews
or
Not Currently Available for Direct Purchase