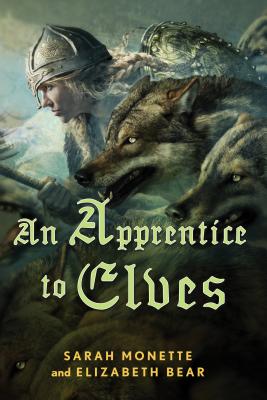 An Apprentice to Elves (Iskryne #3) (Hardcover)
Tor Books, 9780765324719, 336pp.
Publication Date: October 13, 2015
* Individual store prices may vary.
Description
Sarah Monette and Elizabeth Bear return with the third book in their Iskryne trilogy, An Apprentice to Elves. The trilogy began with A Companion to Wolves, and continued in The Tempering of Men. This novel picks up the story of Alfgyfa, a young woman who has been raised in the Wolfhall by her father Isolfr, who is the human leader of the queen-wolf Viridechtis' pack, and was the protagonist of the first book.
The warrior culture of Iskryne forbids many things to women-and most especially it forbids them bonding to one of the giant telepathic trellwolves. But as her father was no ordinary boy, Alfgyfa is no ordinary girl. Her father has long planned to send his daughter to Tin, a matriarch among the elves who live nearby, to be both apprentice and ambassador, and now she is of age to go.
About the Author
Elizabeth Bear shares a birthday with Frodo and Bilbo Baggins. This, coupled with a tendency to read the dictionary as a child, doomed her early to penury, intransigence, friendlessness, and the writing of speculative fiction. She was born in Hartford, Connecticut, and grew up in central Connecticut with the exception of two years (which she was too young to remember very well) spent in Vermont's Northeast Kingdom, in the last house with electricity before the Canadian border.
She's a second-generation Swede, a third-generation Ukrainian, and a third-generation Transylvanian, with some Irish, English, Scots, Cherokee, and German thrown in for leavening. Elizabeth Bear is her real name, but not all of it. Her dogs outweigh her, and she is much beset by her cats.
Bear was the recipient of the John W. Campbell Award for Best New Writer in 2005. She has won two Hugo Awards for her short fiction, a Sturgeon Award, and the Locus Award for Best First Novel. She is the author of the acclaimed Eternal Sky series, the Edda of Burdens series, and coauthor (with Sarah Monette) of the Iskryne series. Bear lives in Brookfield, Massachusetts.
Sarah Monette
is the author of
Melusine
and
The Virtu
, and with Elizabeth Bear is co-author of  
A Companion to Wolves
. She was nominated for the Campbell Award for Best New Writer in 2006.  
Praise For An Apprentice to Elves (Iskryne #3)…
"Every bit as absorbing as the first volume, The Tempering of Men is compelling and intensely readable. Told from multiple perspectives, the characters are well-drawn and distinct, especially Brokkolfr and Amma, his amusingly maternal wolf-sister. Monette and Bear each excel at creating unique worlds when writing solo fiction, so it's no surprise that this joint effort combines their strengths into something extraordinary." —RT Book Reviews, Top Pick
"The meticulously crafted setting and powerful, often moving rendition of characters and relationships-human and nonhuman alike-result in a brutal and beautiful novel about the meaning of honor. …the authors have boldly created a fascinating world that begs further exploration." —Publishers Weekly, starred review on A Companion to Wolves
"Coauthors Monette and Bear combine their literary talents… [A] well-written and emotionally powerful quasi-Nordic fantasy." —Library Journal on A Companion to Wolves
"The world they depict is fraught with a sense of wonder rare even in fantasy.… [Monette and Bear] have taken one of the most escapist of fantasy subgenres, in which humans and animals meld, and turned it into something powerful and surprisingly deeply human." —Booklist on A Companion to Wolves
"What Bear and Monette have done for wolves in this book is no more and no less than what Anne McCaffrey has done for dragons--they have made the wolf iconic, memorable, something larger than life…. The storyline is gripping--I read this thing at a sitting--the writing is exquisite, and the book is destined to be a classic of its kind." —SFSite on A Companion to Wolves