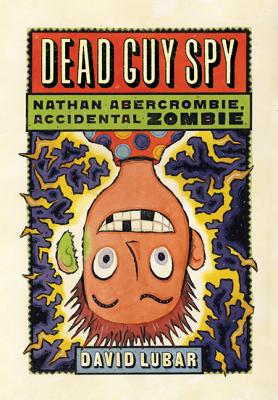 Dead Guy Spy (Nathan Abercrombie, Accidental Zombie #2) (Paperback)
Starscape, 9780765325075, 176pp.
Publication Date: January 5, 2010
Other Editions of This Title:
Hardcover (1/5/2010)
Prebound (1/5/2010)
* Individual store prices may vary.
Description
In this second installment of the hilarious Nathan Abercrombie, Accidental Zombie series by popular author David Lubar, fifth-grader Nathan Abercrombie becomes the world's first zombie spy.
Nathan Abercrombie is getting used to his rotten life as a half-dead zombie. The good thing is he doesn't feel any pain. The bad thing is his body can't heal, so he has to be really careful not to break anything. But that's hard to do when his wrestling-obsessed gym teacher, Mr. Lomux, matches him up with Rodney the bully, who's looking for any excuse to break his bones.
Then one day, Nathan is approached by the secret organization B.U.M.—aka the Bureau of Useful Misadventures—which offers him a cure in exchange for his help. Nathan jumps at the chance to become the world's first zombie spy, but soon discovers that B.U.M. isn't quite what it seems. Can Nathan trust them?
About the Author
David Lubar created a sensation with his debut novel, Hidden Talents, an ALA Best Book for Young Adults. Thousands of kids and educators across the country have voted Hidden Talents onto over twenty state lists. David is also the author of True Talents, the sequel to Hidden Talents; Flip, an ALA Best Book for Young Adults and a VOYA Best Science Fiction, Fantasy and Horror selection; many short story collections including In the Land of the Lawn Weenies, Invasion of the Road Weenies, The Curse of the Campfire Weenies, The Battle of the Red Hot Pepper Weenies, Attack of the Vampire Weenies, Beware the Ninja Weenies, Wipeout of the Wireless Weenies, Strikeout of the Bleacher Weenies, and Extremities; and the Nathan Abercrombie, Accidental Zombie series. Lubar grew up in Morristown, New Jersey, and he has also lived in New Brunswick, Edison and Piscataway, NJ, and Sacramento, CA. Besides writing, he has also worked as a video game programmer and designer. He now lives in Nazareth, Pennsylvania.
Praise For Dead Guy Spy (Nathan Abercrombie, Accidental Zombie #2)…
"The first book in a promising new series introduces likable characters beset by unusual but humorous circumstances…will appeal to reluctant readers" —School Library Journal on My Rotten Life
"The over-the-top narrative will appeal to readers who like their humor twisted, and might even have some wishing that they, too, could be a half-dead zombie." —Publishers Weekly on My Rotten Life
"Nathan is a delightful hero--a former semi-nerd and frequent subject of smackdowns, adventitiously turned cool customer--which, to zombies, comes naturally." —Kirkus Reviews on My Rotten Life
"You have to love a writer who can rhyme 'zombie' in his title. Readers of Lubar's Hidden Talents will enjoy his silly/funny style of storytelling." —NY Post Entertainment Section on My Rotten Life