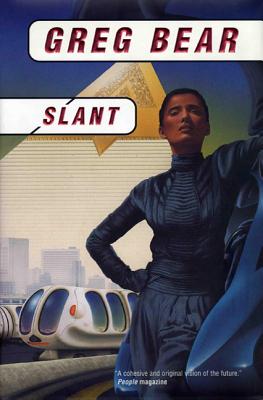 Slant
A Novel
Paperback

* Individual store prices may vary.
Other Editions of This Title:
MP3 CD (5/3/2016)
Mass Market (6/15/1998)
Description
In the sixth decade of the 21st century, the world has been transformed. Nanotechnology has been perfected, giving humans the ability to change their environment and themselves on the cellular level. And the study of the mind has brought about a revolution in both human psychotherapy and artificial intelligence.

It's a sane and perfect world. Almost.

A man called Jack Giffey is planning to break into the Omphalos, the most secure building in all of separatist Green Idaho. Rumor says that the Omphalos houses the not-quite-dead, the very wealthy deceased who are still alive, their brains connected directly into Thinkers, Artificial Intelligences that provide a virtual reality. Data is the great treasure of the new millennium, and Giffey plans to tap into the Omphalos datastream, to steal the knowledge gathered by the inhabitants of the Omphalos.
In the offices of Mind Design, Inc., the most advanced Artificial Intelligence in the world has had a unique experience. She has received a request for contact from a new AI, one she does not know and did not help to design. Jill has never met a stranger of her own kind before; is it an alien Thinker, or the offspring of some vast conspiracy?

Slant is set in Bear's Queen of Angels universe, and is one of the great science fiction novels of the 1990s.
Praise For Slant: A Novel…
"Seattle's reigning master of hard-edged science fiction takes a chilling look at the plausible near-future." —Seattle Post-Intelligencer

"Bear, who's won two Hugos and four Nebulas, should rack up nominations if not wins for this one as well." —Publishers Weekly (starred review)
Orb Books, 9780765325266, 352pp.
Publication Date: July 20, 2010
About the Author
Greg Bear is the author of more than thirty books of science fiction and fantasy, including The Forge of God, Eon, Slant, and the Nebula Award winning novel Moving Mars.  He has also written gaming tie-ins such as Halo: Cryptum, and Hull Zero Three. Awarded two Hugos and five Nebulas for his fiction, he is one of only two authors to win a Nebula in every category. He has been called the "Best working writer of hard science fiction" by The Ultimate Encyclopedia of Science Fiction. His stories have been collected into an omnibus volume by Tor Books, The Best of Greg Bear. Bear has served on political and scientific action committees and has advised Microsoft Corporation, the U.S. Army, the CIA, Sandia National Laboratories, Callison Architecture, Inc., and other groups and agencies. He is married to Astrid Anderson Bear and is the father of Erik and Alexandra.