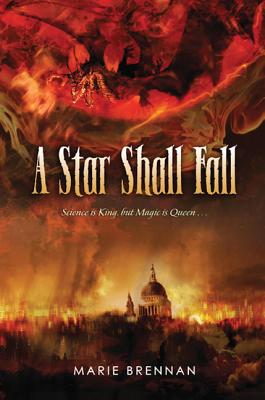 A Star Shall Fall (The Onyx Court #4)
Paperback

* Individual store prices may vary.
Other Editions of This Title:
Mass Market Paperback (9/25/2012)
Description
The Royal Society of London plays home to the greatest minds of England. It has revolutionized philosophy and scientific knowledge. Its fellows map out the laws of the natural world, disproving ancient superstition and ushering in an age of enlightenment.

To the fae of the Onyx Court, living in a secret city below London, these scientific developments are less than welcome. Magic is losing its place in the world—and science threatens to expose the court to hostile eyes.

In 1666, a Great Fire burned four-fifths of London to the ground. The calamity was caused by a great Dragon—an elemental beast of flame. Incapable of destroying something so powerful, the fae of London banished it to a comet moments before the comet's light disappeared from the sky. Now the calculations of Sir Edmond Halley have predicted its return in 1759.

So begins their race against time. Soon the Dragon's gaze will fall upon London and it will return to the city it ravaged once before. The fae will have to answer the question that defeated them a century before: How can they kill a being more powerful than all their magic combined? It will take both magic and science to save London—but reconciling the two carries its own danger…
Praise For A Star Shall Fall (The Onyx Court #4)…
"Stunningly conceived and exquisitely achieved.…With intriguing flashbacks to historical events and a cast of deftly drawn characters both real and imagined, Brennan fleshes out the primal conflict of love and honor pitted against raging ambition and lust for power in a glittering age when mortals could well be such fools as to sell their souls forever." —Publishers Weekly (starred review) on Midnight Never Come

"You will swallow this book whole, wishing that it would never end. Brennan is a bright new voice in fantasy fiction, and In Ashes Lie is her best effort yet." —Sacramento Book Review

"Brennan has created a fascinating hidden underworld beneath London, and it's enhanced by prose that has an elegance perfect for historical fantasy." —Romantic Times on In Ashes Lie
Tor Books, 9780765325365, 496pp.
Publication Date: August 31, 2010
About the Author
Marie Brennan is Professor of Education at Victoria University, Australia, and a former Dean of Education at the University of South Australia. She is currently leading the final year of a major Australian Research Council grant (LP100200499) Renewing the teaching profession in regional areas through community partnerships and participating in the Australian study of the Work of Teacher Educators (WOTE).