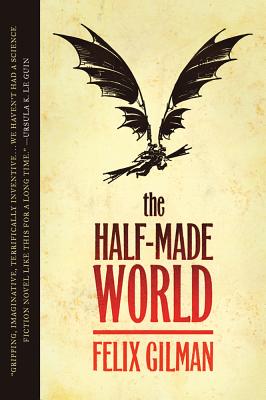 The Half-Made World (Paperback)
Tor Books, 9780765325532, 480pp.
Publication Date: July 19, 2011
Other Editions of This Title:
Hardcover (10/12/2010)
MP3 CD (7/26/2016)
* Individual store prices may vary.
Description
The world is still only half-made. Between the wild shores of uncreation, and the ancient lands of the East lies the vast expanse of the West---young, chaotic, magnificent, war-torn.
Thirty years ago, the Red Republic fought to remake the West---fought gloriously, and failed. The world that now exists has been carved out amid a war between two rival factions: the Line, enslaving the world with industry, and the Gun, a cult of terror and violence. The Republic is now history, and the last of its generals sits forgotten and nameless in a madhouse on the edge of creation. But locked in his memories is a secret that could change the West forever, and the world's warring powers would do anything to take it from him.
Now Liv Alverhuysen, a doctor of the new science of psychology, travels west, hoping to heal the general's shattered mind. John Creedmoor, reluctant Agent of the Gun and would-be gentleman of leisure, travels west, too, looking to steal the secret or die trying. And the servants of the Line are on the march.
About the Author
FELIX GILMAN has been nominated for the John W. Campbell and Locus awards for best new writer. He is the author of the critically acclaimed Thunderer and Gears of the City, and The Half-Made World, which was listed by Amazon as one of the ten best SFF novels of 2010. He lives with his wife in New York City.
Praise For The Half-Made World…
"Vivid and accurate prose, a gripping, imaginative story, a terrifically inventive setting, a hard-bitten, indestructible hero, and an intelligent, fully adult heroine---we haven't had a science-fiction novel like this for a long time." —Ursula K. Le Guin, National Book Award--winning author of The Farthest Shore and The Left Hand of Darkness
"The Half-Made World is refreshingly unlike any other novel I've read. Felix Gilman writes like a modern-day Dickens drunk on rich invention and insane war." —Stephen R. Donaldson, New York Times bestselling author of the Chronicles of Thomas Covenant
"A much-needed breath of fresh air in dystopian fiction. Utterly compelling. Trembling with invention and adventure. Reads as if it's the love child of McCarthy's The Road and Le Guin's The Dispossessed. Highly recommended!" —Eric Van Lustbader, New York Times bestselling author
"Felix Gilman's The Half-Made World takes the brutality of the Wild West and twists it into an epic fantasy that left me staggered. It brings the sense of wonder back to fantasy by creating a complex and visceral world unlike anything I've read. This is a stunning novel." —Mary Robinette Kowal