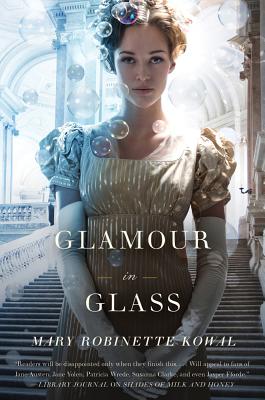 Glamour in Glass
Hardcover

* Individual store prices may vary.
Other Editions of This Title:
Paperback (1/15/2013)
Description
Mary Robinette Kowal stunned readers with her charming first novel "Shades of Milk and Honey," a loving tribute to the works of Jane Austen in a world where magic is an everyday occurrence. This magic comes in the form of glamour, which allows talented users to form practically any illusion they can imagine. "Shades" debuted to great acclaim and left readers eagerly awaiting its sequel. "Glamour in Glass" continues following the lives of beloved main characters Jane and Vincent, with a much deeper vein of drama and intrigue.
In the tumultuous months after Napoleon abdicates his throne, Jane and Vincent go to Belgium for their honeymoon. While there, the deposed emperor escapes his exile in Elba, throwing the continent into turmoil. With no easy way back to England, Jane and Vincent's concerns turn from enjoying their honeymoon to escaping it.
Left with no outward salvation, Jane must persevere over her trying personal circumstances and use her glamour to rescue her husband from prison . . . and hopefully prevent her newly built marriage from getting stranded on the shoals of another country's war.
Praise For Glamour in Glass…
"The setting and the intricate techniques of glamour manipulation continue to intrigue, and the thoughtful portrayal of the difficulties of Jane and Vincent's affectionately nontraditional partnership is thoroughly engaging."--Publishers Weekly
"This is a wonderful book. Kowal has taken such care grounding her story in the time and place in which it's set that the addition of magic is truly seamless. Jane is a superb heroine."--RT Book Reviews
"Prepare to settle in and snuggle up in your comfiest chair; once you start reading, you won't want to stop."--Library Journal
Praise for Shades of Milk and Honey
2010 Nebula Nominee for Best Novel * SF Chronicle's Top 10 SF/F of 2010 * RT Reviewer's Choice Award for Best Fantasy Novel 2010

"Will appeal to fans of Jane Austen, Jane Yolen, Patricia Wrede, Susanna Clarke, and even Jasper Fforde."
—Library Journal on Shades of Milk and Honey

"Kowal sets her own mark on this kind of comedy of manners and creates a low-key and witty debut novel, one that succeeds through understated humor and sprightly prose, rather than through absurd juxtapositions of the historical and the supernatural."
—San Francisco Chronicle

"Shades of Milk and Honey could easily fit into Austen's canon, except of course for the inclusion of magic. Kowal has captured both the style and content of an Austen novel, adding her own speculative fiction twist…hits all the high points of Austen's dialogue and plotting while still having its own identity."
—The Jane Austen Center

"If Jane Austen had written a fantasy novel, [this] would have been the result. Written with painstaking attention to detail, Kowal's prose is serenely evocative of the time period, and the fantastic elements are a seamless fit. The characterization is extremely well done and Jane is a sympathetic, strong and intelligent heroine whose devotion to her family trumps nearly every other concern."
—RT Book Reviews, 4 ½ stars, Top Pick!, Seal of Excellence winner
"A lovely, smart, strange novel with everything on earth (and elsewhere) to recommend it. Smoothly crafted with a flair for romance and mystery, this story is one part meticulous manners and one part wild magic—composing a whole that's utterly irresistible."
—Cherie Priest

"A beautiful, lyrical, tightly woven meld of Jane Austen, Jane Eyre, and Beauty and the Beast—I couldn't put it down!"
—Lilith Saintcrow

"Simply enchanting, and another great advance in an already impressive literary career. You're going to love this."
—John Scalzi
Tor Books, 9780765325570, 334pp.
Publication Date: April 10, 2012
About the Author
Mary Robinete Kowal was the 2008 recipient of the Campbell Award for Best New Writer and a Hugo winner for her story "For Want of a Nail." Her short fiction has appeared in Strange Horizons, Asimov's, and several Year's Best anthologies. Mary is an active member of the Science Fiction and Fantasy Writers of America and currently serves on the board of directors. A professional puppeteer and voice actor, Mary grew up in North Carolina and spent five years touring nationally with puppet theaters. She currently lives in Portland, Oregon, with her husband, Rob, and nine manual typewriters.
or
Not Currently Available for Direct Purchase