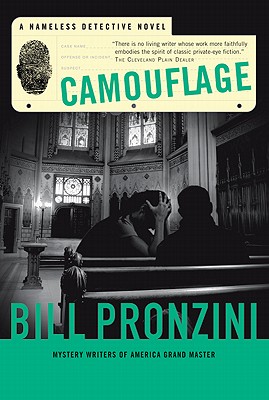 Camouflage (Hardcover)
Forge Books, 9780765325648, 272pp.
Publication Date: June 7, 2011
* Individual store prices may vary.
or
Not Currently Available for Direct Purchase
Description
Nameless may not like David Virden, but the case is simple enough: find his ex-wife—and they know where she is.  Deliver some papers to her and it's all done.  But  she refuses the papers, sends a message to Virden to never contact her again, and slams the door. 
His colleague, Tamara, tells Nameless that Virden threatens to sue, stops payment on his checks, and claims that the woman they located isn't his wife.  Then he disappears and his fiancée hires Nameless to find out why. Clearly, someone is trying to make Nameless the monkey in the middle. 
The investigation that Nameless's partner, Jake Runyon, has to undertake is personal…and urgent.  His girlfriend Bryn's son, a pawn in a bitter divorce settlement, is being beaten and every indication is that his father is responsible.  Is he bitter enough to take out his frustrations on a young boy, to fracture his arm?
Then events turn on Jake: a dead woman, a bloodied Bryn, and a scared and silent child force him to look in other, darker, more deadly directions.
About the Author
Bill Pronzini's novel, "Snowbound," received the Grand Prix de la Litterature Policiere. In addition to six Edgar Award nominations, Pronzini has received three Shamus Awards, two for best novel and the PWA Lifetime Achievement Award. In 2008, the Mystery Writers of America named him Grand Master. He lives in northern California with his wife, the crime novelist Marcia Muller.
Praise For Camouflage…
"One of the best in the mystery-suspense field."--The Washington Post Book World
"Pronzini is a pro at PI Fiction: he never cheats on the reader, respecting the conventions of the hard-boiled detective stories and puzzle mysteries he employs so well."--Library Journal on Schemers
"Pronzini is justly celebrated as a chronicler of San Francisco, but this novel also showcases his deft touch with interiors—how an unmade bed, the stench of cigarette smoke, or an antiseptically clean and empty home can say volumes about the tail ends of desperate lives. Another Pronzini winner."—Booklist on Fever
"Pronzini is a greatly gifted storyteller who never fails to deliver topflight entertainment."--The San Diego Union-Tribune on Fever
Advertisement