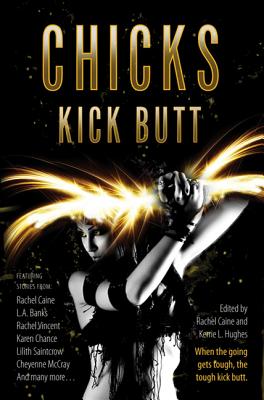 Chicks Kick Butt
Paperback

* Individual store prices may vary.
Description
Chicks are awesome--and never more so than when they are kicking some serious vampire/werewolf/demon/monster butt.

Chicks Kick Butt is an anthology that features one of the best things about the urban fantasy genre: strong, independent, and intelligent heroines who are quite capable of solving their own problems and slaying their own dragons (or demons, as the case may be).

Edited by Kerrie Hughes and Rachel Caine, Chicks Kick Butt features original stories from thirteen authors, eleven of whom are New York Times bestsellers:

- Rachel Caine (with a story from her bestselling Weather Wardens universe)
- L.A. Banks
- Rachel Vincent
- Karen Chance
- Lilith Saintcrow
- Cheyenne McCray
- Susan Krinard
- Jeanne Stein
- Jenna Black
- Susan Krinard
- Jeanne Stein
- Jenna Black
- Elizabeth Vaughan
- Carole Nelson Douglas
- P.N. Elrod
- Nancy Holder
Tor Books, 9780765325778, 352pp.
Publication Date: June 7, 2011
About the Author
RACHEL CAINE is the internationally bestselling author of thirty novels, including the New York Times and USA Today bestselling Morganville Vampires young adult series, and the bestselling Weather Warden series. She contributed to My Big Fat Supernatural Wedding from St. Martin's Press and Chicks Kick Butt from Tor.

KERRIE L. HUGHES is an artist, writer, editor, and traveler, currently working towards a Master's degree in Community Counseling. She is the author of Chicks Kick Butt. She has been editing anthologies since 2005.