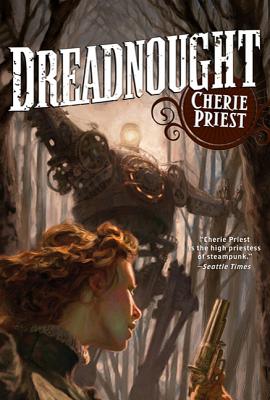 Dreadnought
A Novel of the Clockwork Century
Paperback

* Individual store prices may vary.
Other Editions of This Title:
Digital Audiobook (9/27/2010)
Description
Nurse Mercy Lynch is elbows deep in bloody laundry at a war hospital in Richmond, Virginia, when Clara Barton comes bearing bad news: Mercy's husband has died in a POW camp. On top of that, a telegram from the west coast declares that her estranged father is gravely injured, and he wishes to see her. Mercy sets out toward the Mississippi River. Once there, she'll catch a train over the Rockies and—if the telegram can be believed—be greeted in Washington Territory by the sheriff, who will take her to see her father in Seattle.

Reaching the Mississippi is a harrowing adventure by dirigible and rail through war-torn border states. When Mercy finally arrives in St. Louis, the only Tacoma-bound train is pulled by a terrifying Union-operated steam engine called the Dreadnought. Reluctantly, Mercy buys a ticket and climbs aboard.

What ought to be a quiet trip turns deadly when the train is beset by bushwhackers, then vigorously attacked by a band of Rebel soldiers. The train is moving away from battle lines into the vast, unincorporated west, so Mercy can't imagine why they're so interested. Perhaps the mysterious cargo secreted in the second and last train cars has something to do with it?

Mercy is just a frustrated nurse who wants to see her father before he dies. But she'll have to survive both Union intrigue and Confederate opposition if she wants to make it off the Dreadnought alive.
Praise For Dreadnought: A Novel of the Clockwork Century…
"Maternal love faces formidable challenges in this stellar steampunk tale…. Intelligent, exceptionally well written and showcasing a phenomenal strong female protagonist who embodies the complexities inherent in motherhood, this yarn is a must read for the discerning steampunk fan." —Publishers Weekly, starred review on Boneshaker

"A mash-up of action, history, and science that is everything good about steampunk. If you like the genre, you'll love this, and if you've been worried that it's getting stale or trendy then you will be thrilled with Priest's way of taking the formula and turning it inside out. The setting is solid but the characters are what makes Boneshaker sing. Give Cherie Priest fifteen minutes of your time-- trust me--you won't look back." —Bookslut on Boneshaker

"Cherie Priest is high priestess of steampunk. " —Seattle Times on Boneshaker
Tor Books, 9780765325785, 400pp.
Publication Date: September 28, 2010
About the Author
Cherie Priest debuted to great acclaim with Four and Twenty Blackbirds, Wings to the Kingdom, and Not Flesh Nor Feathers, a trilogy of Southern Gothic ghost stories featuring heroine Eden Moore. She is also the author of Fathom, Dreadnought, and Boneshaker, which was nominated for a Nebula and Hugo Award and won the PNBA Award and the Locus Award for best science-fiction novel. She is an associate editor at Subterranean Press. Born in Tampa, Florida, Priest went to college at Southern Adventist University and earned her master's in rhetoric at the University of Tennessee. After spending most of her life in the southern United States, she recently moved to Seattle, Washington, with her husband, Aric, and a fat black cat named Spain.