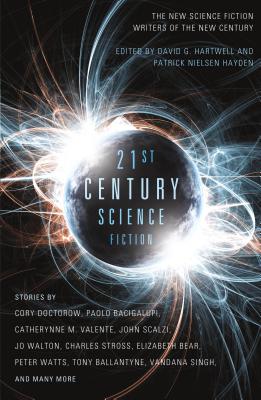 Twenty-First Century Science Fiction (Hardcover)
Tor Books, 9780765326003, 572pp.
Publication Date: November 5, 2013
Other Editions of This Title:
Paperback (9/23/2014)
* Individual store prices may vary.
Description
"Twenty-First Century Science Fiction" is an enormous anthology of short stories close to 250,000 words edited by two of the most prestigious and award-winning editors in the SF field and featuring recent stories from some of science fiction's greatest up-and-coming authors.
David Hartwell and Patrick Nielsen Hayden have long been recognized as two of the most skilled and trusted arbiters of the field, but "Twenty-First Century Science Fiction" presents fans' first opportunities to see what their considerable talents come up with together, and also to get a unique perspective on what's coming "next" in the science fiction field.
The anthology includes authors ranging from bestselling and established favorites to incandescent new talents including Paolo Bacigalupi, Cory Doctorow, Catherynne M. Valente, John Scalzi, Jo Walton, Charles Stross, Elizabeth Bear, and Peter Watts, and the stories selected include winners and nominees of all of the science fiction field's major awards.
One of "Publishers Weekly"'s Best Science Fiction Books of 2013.
About the Author
DAVID G. HARTWELL, widely acclaimed as the most influential SF editor of his age, lives in Pleasantville, New York. PATRICK NIELSEN HAYDEN, called "one of the most literate and historically aware editors in science fiction" by The Washington Post, lives in Brooklyn, New York. They have both won the World Fantasy Award and multiple Hugo Awards for their editorial work.
Praise For Twenty-First Century Science Fiction…
Praise for Twenty-First Century Science Fiction:
"A bumper crop of 34 stories from authors who first came to prominence in the 21st century, compiled by two of the most highly respected editors in the business....Grab this book. Whether newcomer or old hand, the reader will not be disappointed." --Kirkus Reviews (starred review)
"In my more than 40 years working in the science fiction publishing industry, I've seen this notion crop up every 10 years or so: 'Science fiction has exhausted itself. There are no good new writers coming along anymore. The genre is finished!' Tor editors Hartwell and Nielsen Hayden thoroughly refute such claims….Twenty-First Century Science Fiction will certainly be recognized as one of the best reprint science fiction anthologies of the year, and it belongs in the library of anyone who is interested in the evolution of the genre." (--Gardner Dozois, Publishers Weekly)
Praise for the editors:
"One of the definitive anthologies of the genre."
—Des Moines Register on The Science Fiction Century

"An editor extraordinaire." —Publishers Weekly on David Hartwell

"We are in the hands of a loving expert."
—John Updike on The Hard SF Rennaissance

"The finest collection of SF short stories published specifically for young adult readers in recent memory." —VOYA on New Skies

"Superior—Nielsen Hayden deserves a medal. There hasn't been an original anthology series so consistently satisfying since Damon Knight's Orbit."
—Kirkus Reviews, starred review on Starlight 3
or
Not Currently Available for Direct Purchase