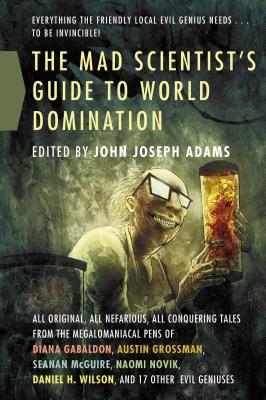 The Mad Scientist's Guide to World Domination
Original Short Fiction for the Modern Evil Genius
Paperback

* Individual store prices may vary.
Description
Blockbuster anthology of original evil genius stories by bestselling authors with a maniacal glint in their eye. From Victor Frankenstein to Lex Luthor, from Dr. Moreau to Dr. Doom, readers have long been fascinated by insane plans for world domination and the madmen who devise them.

Typically, we see these villains through the eyes of good guys. This anthology, The Mad Scientist's Guide to World Domination, however, explores the world of mad scientists and evil geniuses—from their own wonderfully twisted point of view.

An all-star roster of bestselling authors—including Diana Gabaldon, Daniel Wilson, Austin Grossman, Naomi Novik, and Seanan McGuire…twenty-two great storytellers all told—have produced a fabulous assortment of stories guaranteed to provide readers with hour after hour of high-octane entertainment born of the most megalomaniacal mayhem imaginable.

Everybody loves villains. They're bad; they always stir the pot; they're much more fun than the good guys, even if we want to see the good guys win. Their fiendish schemes, maniacal laughter, and limitless ambition are legendary, but what lies behind those crazy eyes and wicked grins? How—and why—do they commit these nefarious deeds? And why are they so set on taking over the world?

If you've ever asked yourself any of these questions, you're in luck: It's finally time for the madmen's side of the story.
Praise For The Mad Scientist's Guide to World Domination: Original Short Fiction for the Modern Evil Genius…
"Breathtakingly rich… Superior writing, fantastic storytelling, and creative adherence to the theme will keep readers enthralled." —Publishers Weekly, starred review on Federations

"Editor John Joseph Adams has put together an impressive collection." —The Washington Post on The Living Dead 2
Tor Books, 9780765326454, 368pp.
Publication Date: February 19, 2013
About the Author
JOHN JOSEPH ADAMS is the bestselling editor of Wastelands, Under the Moons of Mars, Seeds of Change, The Living Dead, The Way of the Wizard, By Blood We Live, and The Improbable Adventures of Sherlock Holmes. He's a two-time finalist for the Hugo and a three-time finalist for the World Fantasy Award. He is also the publisher and editor of Lightspeed Magazine, and the cohost of Wired.com's "The Geek's Guide to the Galaxy" podcast. He lives in Coastal Central California.