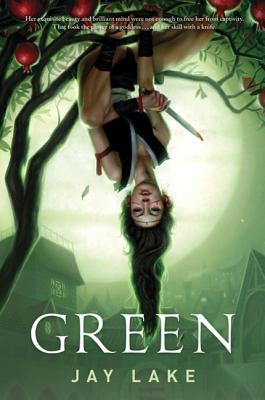 Green
Paperback

* Individual store prices may vary.
Description
Acclaimed author Jay Lake has created a remarkable character in Green, and evokes a remarkable world in this novel. Green and her struggle to survive and find her own past will live in the reader's mind a long time after the book is closed.

Her exquisite beauty and brilliant mind were not enough to free her from captivity. That took her skills with a knife, plus the power of a goddess.

She was born in poverty, in a dusty village under the equatorial sun. She does not remember her mother, she does not remember her own name--her earliest clear memory is of the day her father sold her to the tall pale man. In the Court of the Pomegranate Tree, where she was taught the ways of a courtesan…and the skills of an assassin…she was named Emerald, the precious jewel of the Undying Duke's collection of beauties. She calls herself Green.

The world she inhabits is one of political power and magic, where Gods meddle in the affairs of mortals. At the center of it is the immortal Duke's city of Copper Downs, which controls all the trade on the Storm Sea. Green has made many enemies, and some secret friends, and she has become a very dangerous woman indeed.
Praise For Green…
"A fascinating, difficult character, Green lives in a remarkable world, in which gods walk the earth, and not all people are human. Lake's world-building is stellar, even with as idiosyncratic a narrator as Green, and the story she tells thrills." —Booklist

"I adored Green the character and loved Green the novel. I highly, highly recommend this book, particularly if you're looking for a strong female protagonist." —Mary Robinette Kowal

"Running with Green over the city's gilded rooftops, plunging through sewers with her to confront a skinless avatar of the God of Pain, readers will feel the exhilaration of freedom deeply prized, unceasingly sought, and hard-won." —Seattle Times (Tiptree Award-winning author Nisi Shawl)
Tor Books, 9780765326478, 368pp.
Publication Date: February 15, 2011
About the Author
Jay Lake was a prolific writer of science fiction and fantasy, as well as an award-winning editor, a popular raconteur and toastmaster, and an excellent teacher at the many writers' workshops he attended. His novels included Tor's publications Mainspring, Escapement, and Pinion, and the trilogy of novels in his Green cycle - Green, Endurance, and Kalimpura. Lake was nominated multiple times for the Hugo Award, the Nebula Award, and the World Fantasy Award. He won the John W. Campbell Award for best new writer in 2004, the year after his first professional stories were published. In 2008 Jay Lake was diagnosed with colon cancer, and in the years after he became known outside the sf genre as a powerful and brutally honest blogger about the progression of his disease. Jay Lake died on June 1, 2014.