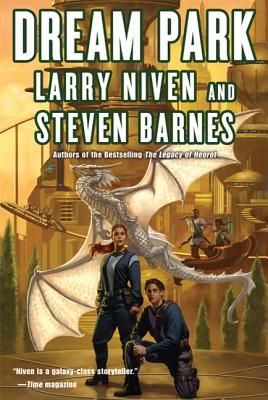 Dream Park (Paperback)
Tor Books, 9780765326676, 320pp.
Publication Date: May 11, 2010
Other Editions of This Title:
Compact Disc (11/7/2017)
Compact Disc (11/7/2017)
MP3 CD (5/17/2016)
* Individual store prices may vary.
Description
The beginning of a hard sci-fi series, Deam Park is a visionary science fiction classic from Larry Niven and Steven Barnes
A group of pretend adventurers suit up for a campaign called "The South Seas Treasure Game." As in the early Role Playing Games, there are Dungeon Masters, warriors, magicians, and thieves. The difference? At Dream Park, a futuristic fantasy theme park full of holographic attractions and the latest in VR technology, they play in an artificial enclosure that has been enhanced with special effects, holograms, actors, and a clever storyline. The players get as close as possible to truly living their adventure.
All's fun and games until a Park security guard is murdered, a valuable research property is stolen, and all evidence points to someone inside the game. The park's head of security, Alex Griffin, joins the game to find the killer, but finds new meaning in the games he helps keep alive.
About the Author
Larry Niven is the award-winning author of the Ringworld series, along with many other science fiction masterpieces and fantasy including the Magic Goes Away series. His Beowulf's Children, co-authored with Jerry Pournelle and Steven Barnes, was a New York Times bestseller. He has received the Nebula Award, five Hugos, four Locus Awards, two Ditmars, the Prometheus, and the Robert A. Heinlein Award, among other honors. He lives in Chatsworth, California.

Steven Barnes is the author of several science fiction classics. His first collaboration with Larry Niven, The Locusts, was nominated for the 1980 Hugo award. He has also written several episodes for The Outer Limits, Baywatch, and other television shows. He lives in Longview, Washington.