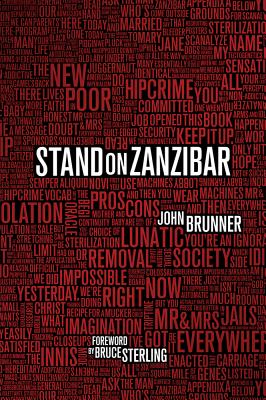 Stand on Zanzibar (Paperback)
The Hugo Award-Winning Novel
Orb Books, 9780765326782, 576pp.
Publication Date: August 16, 2011
Other Editions of This Title:
Digital Audiobook (8/1/2011)
Mass Market Paperback (4/1/1987)
Hardcover (12/15/2010)
* Individual store prices may vary.
Description
The brilliant 1969 Hugo Award-winning novel from John Brunner, Stand on Zanzibar, now included with a foreword by Bruce Sterling
Norman Niblock House is a rising executive at General Technics, one of a few all-powerful corporations. His work is leading General Technics to the forefront of global domination, both in the marketplace and politically---it's about to take over a country in Africa. Donald Hogan is his roommate, a seemingly sheepish bookworm. But Hogan is a spy, and he's about to discover a breakthrough in genetic engineering that will change the world...and kill him.
These two men's lives weave through one of science fiction's most praised novels. Written in a way that echoes John Dos Passos' U.S.A. Trilogy, Stand on Zanzibar is a cross-section of a world overpopulated by the billions. Where society is squeezed into hive-living madness by god-like mega computers, mass-marketed psychedelic drugs, and mundane uses of genetic engineering. Though written in 1968, it speaks of now, and is frighteningly prescient and intensely powerful.
About the Author
John Brunner (1934-1995) published his first novel pseudonymously at the age of 17, and through the 1950s and early 1960s wrote many science fiction adventure novels. His work grew more ambitious in the late 1960s; Stand on Zanzibar, a Hugo Award-winner, is generally regarded as his greatest achievement.

Bruce Sterling is an American science fiction writer, born in Brownsville, Texas on April 14, 1954. His first published fiction appeared in the late 1970s, but he came to real prominence in the early 1980s as one of several writers associated with the "cyberpunk" tendency, and as that movement's chief theoretician and pamphleteer. He also edited the anthology Mirrorshades (1986), which still stands as a definitive document of that period in SF. His novel Islands in the Net (1988) won the John W. Campbell Award for best SF novel of the year; he has also won two Hugo awards, for the stories "Bicycle Repairman" (1996) and "Taklamakan" (1998). His 1990 collaboration with William Gibson, The Difference Engine, was an important work of early steampunk/neo-Victoriana. In 2009, he published The Caryatids. In 1992 he published The Hacker Crackdown: Law and Disorder on the Electronic Frontier, heralding a second career as a journalist covering social, legal, and artistic matters in the digital world. The first issue of Wired magazine, in 1993, featured his face on its cover; today, their web site hosts his long-running blog, Beyond the Beyond.
Praise For Stand on Zanzibar: The Hugo Award-Winning Novel…
"A wake-up call to a world slumbering in the opium dream of consumerisum; in the hazy certainty that we humans were in charge of nature. Science fiction is not about predicting the future, it's about elucidating the present and the past. Brunner's 1968 nightmare is crystallizing around us, in ways he could not have foreseen then. If the right people had read this book, and acted in accordance with its precepts and spirit, our world would not be in such precarious shape today. Maybe it's time for a new generation to read it." —Joe Haldeman
"A quite marvelous projection in which John Brunner landscapes a future that seems the natural foster child of the present." —Kirkus Reviews