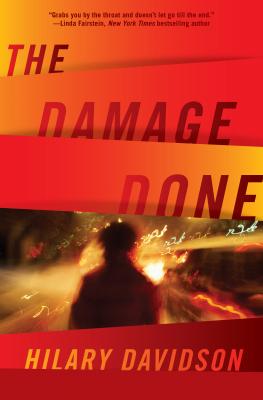 The Damage Done
Hardcover

* Individual store prices may vary.
Other Editions of This Title:
Paperback (9/28/2010)
Mass Market Paperback (1/3/2012)
Description
Winner of the Anthony Award for Best First Novel

Lily Moore, a successful travel writer, fled to Spain to get away from her troubled, drug-addicted younger sister, Claudia.  But when Claudia is found dead in a bathtub on the anniversary of their mother's suicide, Lily must return to New York to deal with the aftermath.

The situation shifts from tragic to baffling when the body at the morgue turns out to be a stranger's. The dead woman had been using Claudia's identity for months.  The real Claudia had vanished, reappearing briefly on the day her impostor died.  As Claudia transforms from victim to suspect in the eyes of the police, Lily becomes determined to find her before they do.

Is Claudia actually missing, or is she playing an elaborate con game?  And who's responsible for the body that was found in the bathtub?  An obsessive ex-lover?  An emotionally disturbed young man with a rich and powerful father?  Or Lily's own former fiancé, who turns out to be more deeply involved with Claudia than he admits?

As Lily searches for answers, a shadowy figure stalks her and the danger to her grows.  Determined to learn the truth at any cost, she is unprepared for the terrible toll it will take on her and those she loves.
Praise For The Damage Done…
"[A] razor sharp mystery debut. . . . Davidson offers a great portrait of sisterly love, despite a dysfunctional past, as well as a highly satisfying mystery."--Publishers Weekly on The Damage Done

"Hilary Davidson makes a stunning debut with The Damage Done. It's a smart crime novel, peopled with sinister characters and clever twists you won't see coming. Davidson grabs you by the throat with her opening, and doesn't let go till the end."--Linda Fairstein, New York Times bestselling author of Hell Gate and Lethal Legacy

"Sinking us into the noir New York of Sara Gran and Charlie Huston, Hilary Davidson's lush novel The Damage Done delivers on all counts, offering both slow-burn suspense and creeping pathos. Taking the classic story of hero's quest to solve the riddle of a wayward sister, it's ultimately a tale of lost women, victims and victimizers, damaging and perilously damaged. A rich, haunting debut."--Megan Abbott, Edgar-winning author of Die a Little, Queenpin, and Bury Me Deep

"The Damage Done is truly an astonishing read. Think Hitchcock writing for the hip Manhattan set and still, with a wondrous compassion that moves on nigh on every page. If Tess Gerritsen and Laura Lippman collaborated, you'd get a novel as fine as this. Terrific insights into the damaged sister's psyche and all the emotions therein, rendered in a prose that is a joy to read. Neil Young might have to rewrite the song. The novel is that startling and original."--Ken Bruen, bestselling author of London Boulevard and the Jack Taylor mysteries

"A twisty, unsettling mystery which explores the nature of identity theft and identity itself.  A provocative debut."--Jane Stanton Hitchcock, New York Times bestselling author of Mortal Friends, Social Crimes, and One Dangerous Lady

"The Damage Done is a sleek, savvy mystery that kept me turning pages and trying to figure out the beautifully constructed plot. Hilary Davidson's debut is a memorable one."--Ed Gorman, award-winning author of The Poker Club and the Sam McMain series

"A sharp debut. Smart, dark, and complex, this mystery will keep you turning pages deep into the night. Ms. Davidson's talent is toe-to-toe with the great Laura Lippman. My favorite new voice in crime fiction."--Allison Glasgow Robinson, Thuglit editor
Forge Books, 9780765326973, 352pp.
Publication Date: September 28, 2010
About the Author
Hilary Davidson won the Anthony Award for Best First Novel for "The Damage Done." That book also earned a Crimespree Award and was a finalist for the Arthur Ellis and Macavity awards. Hilary's widely acclaimed short stories have been featured in publications from "Ellery Queen" to "Thuglit, " and in many anthologies. A Toronto-born travel journalist and the author of eighteen nonfiction books, she has lived in New York City since October 2001.
or
Not Currently Available for Direct Purchase