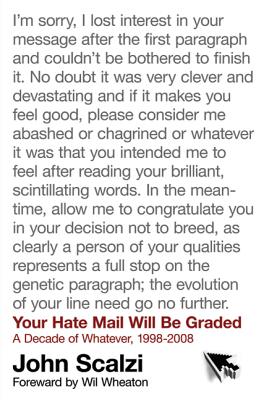 Your Hate Mail Will Be Graded (Paperback)
A Decade of Whatever, 1998-2008
Tor Books, 9780765327116, 368pp.
Publication Date: January 5, 2010
* Individual store prices may vary.
Description
On September 13, 1998, John Scalzi sat down in front of his computer to write the first entry in his blog Whatever--and changed the history of the Internet as we know it today.
What, you're not swallowing that one? Okay, fine: He started writing Whatever and amused about 15 people that first day. If that many. But he kept at it, for ten years and running. Now 40,000 people drop by on a daily basis to see what he's got to say.
About what? Well, about whatever: Politics, writing, family, war, popular culture and cats (especially with bacon on them). Sometimes he's funny. Sometimes he's serious (mostly he's sarcastic). Sometimes people agree with him. Sometimes they send him hate mail, which he grades on originality and sends back. Along the way, Scalzi's become a best-selling, award-winning author, a father, and a geek celebrity. But no matter what, there's always another Whatever post to amuse and/or enrage his readers.
Your Hate Mail Will Be Graded collects some of the best and most popular Whatever entries from the first ten years of the blog – a decade of Whatever, presented in delightfully random form, just as it should be.
* Winner of the 2009 Hugo Award for Best Non-Fiction Book

* Introduction by Star Trek actor Wil Wheaton

Old Man's War Series
#1 Old Man's War
#2 The Ghost Brigades
#3 The Last Colony
#4 Zoe's Tale
#5 The Human Division
#6 The End of All Things
Short fiction: "After the Coup"
Other Tor Books
The Android's Dream
Agent to the Stars
Your Hate Mail Will Be Graded
Fuzzy Nation
Redshirts
Lock In
The Collapsing Empire (forthcoming)
About the Author
John Scalzi won the 2006 John W. Campbell Award for Best New Writer, the 2013 Hugo Award for Best Novel for Redshirts, and his debut novel Old Man's War was a finalist for Hugo Award as well. His other books include The Ghost Brigades, The Android's Dream, The Last Colony and The Human Division. He has won the Romantic Times Reviewers Choice Award for science-fiction, the Seiun, The Kurd Lasswitz and the Geffen awards. His weblog, The Whatever, is one of the most widely-read web sites in modern SF. Born and raised in California, Scalzi studied at the University of Chicago. He lives in southern Ohio with his wife and daughter.