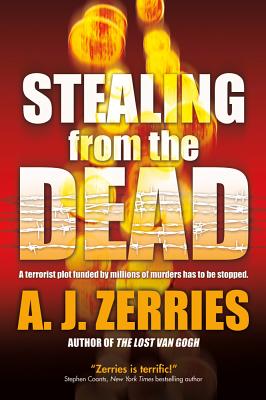 Stealing from the Dead (Hardcover)
Forge, 9780765327178, 380pp.
Publication Date: August 21, 2012
* Individual store prices may vary.
or
Not Currently Available for Direct Purchase
Description
In Stealing from the Dead, detective Greta Strasser uncovers a brutal plot to steal millions from Holocaust survivors and fuel a vast terrorist conspiracy.
Between 1933 and 1945, thousands of Jewish people deposited their money in Swiss bank accounts, hoping that they or their family might survive the Holocaust. However, when the survivors returned to reclaim their money, the banks claimed that the accounts never existed.
Now, decades later, NYPD detective Greta Strasser, investigating the death of an elderly Jewish woman, stumbles onto a conspiracy that stretches from New York and Los Angeles to Germany, from Switzerland to the Middle East. Greta, recruited by a special task force, follows a trail of ruthless murders.
The conspirators have hired an assassin to kill the people on the Claims Resolution Tribunal list. Greta, hell-bent on stopping the senseless deaths and enormous theft of funds, goes undercover to prevent the next murder, even though it means impersonating the assassin she hunts.
With all the tension and excitement that fueled The Lost Van Gogh, A. J. Zerries has written another novel of enormous excitement and constantly building suspense.
About the Author
AL and JEAN ZERRIES are the husband-and-wife authors of "The Lost Van Gogh." Zerries now lives in Los Angelees.
Praise For Stealing from the Dead…
Advance praise for Stealing from the Dead:
"Well-wrought, and founded on a believable, grim motivation, Stealing from the Dead is a thriller that truly thrills. I hope to see a lot more of NYPD cop Greta Strasser."
—Barbara D'Amato, author of Other Eyes
"Mix real cops, real terrorists, and real police procedure, and you have a real darn good mystery/thriller. Zerries is terrific!"
—Stephen Coonts, New York Times bestselling author of Flight of the Intruder
"A first-rate story about a NYPD cop who won't quit no matter what obstacles are put in her way, or who puts them there. First-rate."  —David Hagberg, New York Times bestselling author of Abyss
Advertisement