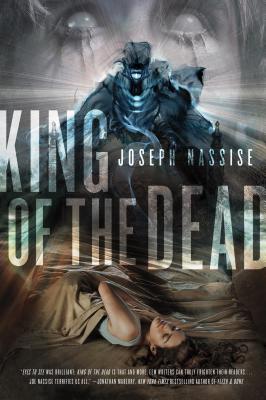 King of the Dead (Hardcover)
Tor Books, 9780765327192, 350pp.
Publication Date: November 27, 2012
* Individual store prices may vary.
Description
"A Jeremiah Hunt Supernatual Thriller"
Joseph Nassise shook up the urban fantasy genre with "Eyes to See," a novel "New York Times "bestselling author Jonathan Maberry called "heartbreaking, deeply insightful, powerful and genuinely thrilling." In a devil's deal, Jeremiah Hunt sacrificed his human sight in exchange for the power to see the hidden world of ghosts and all of the darker spirits that prowl the streets. Hunt uncovered a world of murder and magic that took his daughter from him and nearly cost him his life, but that was only the beginning....
Now Hunt is on the run from the FBI, who have pegged him as a mass-murdering dark sorcerer. His flight from the law is diverted to New Orleans when his companion, a potent witch, has a horrific vision of the city under magical siege. When they arrive, they realize that the situation is more dire than they could have imagined: the world of the living faces a terrifying attack by forces from beyond the grave. "King of the Dead," the second book in this groundbreaking series, promises more of Nassise's electrifying writing that will enthrall readers looking for a supercharged, supernatural thrill.
About the Author
JOSEPH NASSISE is the author of the bestselling Templar Chronicles trilogy and "Eyes to See," the first novel of the Jeremiah Hunt Chronicle. He lives in Phoenix, Arizona, with his wife and four children.
Praise For King of the Dead…
"It isn't often that a sequel surpasses expectations, but this is a rare exception. Once again, Nassise has written a thoroughly engrossing story that blends supernatural terrors with heart-wrenching depth and narrative wizardry."    —RT Book Reviews on King of the Dead
Praise for Eyes to See:
"[A] rich, exciting, emotionally resonant blend of horror, thriller, and fantasy."
—Booklist
"A great read and unlike almost anything else I've read in urban fantasy: It's hard-boiled and dark, as if Cornell Woolrich had written an urban fantasy. Definitely its own beast. Damn, this man can write!" 
—Kat Richardson, bestselling author of the Greywalker paranormal mysteries
"I couldn't stop reading. It's full of supernatural creepiness that will have you leaving the lights on when you go to sleep."  —Carrie Vaughn, New York Times bestselling author of the Kitty series
"Gritty, grim, yet surprisingly personal and poetic, Eyes to See is like nothing else in the field."
—Seanan McGuire, New York Times bestselling author of the October Daye series
"
Eyes To See
by Joseph Nassise is a spellbinding dark urban fantasy that will haunt your nightmares and memories for a long time after you finish reading it."   —Douglass R. Cobb
"Eyes to See brings urban fantasy to a new level. Heartbreaking, deeply insightful, powerful and genuinely thrilling. Joe Nassise has just raised the bar for the whole genre."  
—Jonathan Maberry, New York Times bestselling author
"It isn't often that a sequel surpasses expectations, but this is a rare exception. Once again, Nassise has written a thoroughly engrossing story that blends supernatural terrors with heart-wrenching depth and narrative wizardry."    —RT Book Reviews
or
Not Currently Available for Direct Purchase