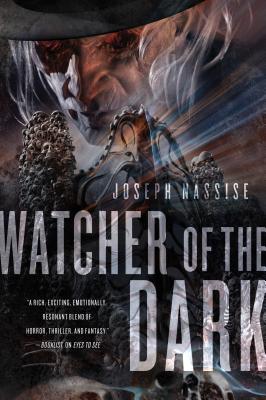 Watcher of the Dark (Hardcover)
Tor Books, 9780765327208, 301pp.
Publication Date: November 19, 2013
Other Editions of This Title:
MP3 CD (5/10/2016)
* Individual store prices may vary.
Description
"A Jeremiah Hunt Supernatural Thriller"
New Orleans was nearly the death of Jeremiah Hunt, between a too-close brush with the FBI and a chilling, soul-searing journey through the realm of the dead that culminated with a do-or-die confrontation with Death himself. But now Hunt is back and on the run in "Watcher of the Dark."
But when he performs an arcane ritual to reclaim the soul of the magically gifted, beautiful woman who once saved him, he must flee the law once again, to Los Angeles, city of angels, a temporary sanctuary.
In L.A., he has to contend with Carlos Fuentes, who sees in Hunt a means to obtain the mystical key that would open the gates of Hell. Fuentes knows Hunt's weakness his loyalty to the woman he loves, and to another "gifted" friend and uses the real threat of torturing them as a way to get Hunt to help complete his dread quest.
Hunt has learned a lot since his life was irrevocably hijacked by fate months ago. But when his friends are threatened by the supernatural predator known as the Preacher, Hunt knows that all his newfound experience and ability will go for naught unless he can keep both the Preacher and Fuentes at bay long enough for him to somehow find a way to free his friends from mortal peril.
Joseph Nassise delivers another thrilling novel in his dark, urban fantasy series, the Jeremiah Hunt Chronicles.
About the Author
JOSEPH NASSISE is the author of the internationally bestselling Templar Chronicles and has been nominated for the Bram Stoker Award and the International Horror Guild Award. Watcher of the Dark is the third Jeremiah Hunt Chronicle in the series that began with Eyes to See and King of the Dead. He lives in Phoenix, Arizona, with his wife and four children.
Praise For Watcher of the Dark…
Praise for Watcher of the Dark:

"[A] fascinating world. [Grounds] the paranormal elements with very human relationships and frightening, real dangers. With snarky humor and impressive attention to detail, Nassise creates hauntingly beautiful nightmares that will enthrall longtime readers and no doubt earn many new fans."—RT Book Reviews, 4 ½ stars, Top Pick!

Praise for King of the Dead
"Nassise manages to fill in new readers without getting mired in exposition, all while creating a world that feels authentic and accessible, even when the otherworldly action reaches fever pitch." —RT Book Reviews
"King of the Dead proves that sequels can be every bit as good, as fresh, and as compelling as the first book. Eyes to See was brilliant; King of the Dead is that and more. Few writers can truly frighten their readers. Joe Nassise terrifies us all."
—Jonathan Maberry, New York Times bestselling author of Assassin's Code
Praise for Eyes to See
"This is a fine, hardboiled book. Eyes to See offers up a style of dark urban fantasy that will readily appeal to fans of John Connolly and Charlie Huston."
--Charles de Lint, Fantasy and Science Fiction
"Gritty, grim, yet surprisingly personal and poetic, Eyes to See is like nothing else in its field. Make time for this one."
--Seanan McGuire, New York Times bestselling author of the October Daye series
"Eyes to See is a great read and unlike almost anything else I've read in Urban Fantasy: It's hardboiled and dark, as if Cornell Woolrich had written an urban fantasy. Definitely its own beast. Damn, this man can write! I thoroughly enjoyed it, and I'll be standing in line for Book 2."
--Kat Richardson, bestselling author of the Greywalker paranormal mysteries
"A spellbinding dark urban fantasy that will haunt your nightmares and memories for a long time after you finish reading it."
--Douglas R. Cobb, author of The Case Files of Lily and PAWS series
or
Not Currently Available for Direct Purchase