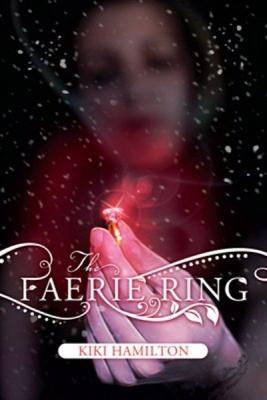 The Faerie Ring (The Faerie Ring #1)
Hardcover

* Individual store prices may vary.
Other Editions of This Title:
Paperback (10/2/2012)
Description
Debut novelist Kiki Hamilton takes readers from the gritty slums and glittering ballrooms of Victorian London to the beguiling but menacing Otherworld of the Fey in this spellbinding tale of romance, suspense, and danger.
The year is 1871, and Tiki has been making a home for herself and her family of orphans in a deserted hideaway adjoining Charing Cross Station in central London. Their only means of survival is by picking pockets. One December night, Tiki steals a ring, and sets off a chain of events that could lead to all-out war with the Fey. For the ring belongs to Queen Victoria, and it binds the rulers of England and the realm of Faerie to peace. With the ring missing, a rebel group of faeries hopes to break the treaty with dark magic and blood Tiki's blood.
Unbeknownst to Tiki, she is being watched and protected by Rieker, a fellow thief who suspects she is involved in the disappearance of the ring. Rieker has secrets of his own, and Tiki is not all that she appears to be. Her very existence haunts Prince Leopold, the Queen's son, who is driven to know more about the mysterious mark that encircles her wrist.
Prince, pauper, and thief all must work together to secure the treaty
Praise For The Faerie Ring (The Faerie Ring #1)…
Praise for The Faerie Ring:
"Urban faerie fantasy meets Oliver Twist (with a dash of Cinderella) in this exciting tale of a street orphan who mingles with royalty to save olde England from dark magic. Plenty of action and suspense. Let's hope there'll be more adventures for Tiki and the handsome Rieker."—O.R. Melling, author of The Chronicles of Faerie
"A delicious blend of urban fantasy, heart-stopping suspense and sizzling romance—The Faerie Ring rocks! Pulsing with excitement, this high-stakes adventure catapults you through the gritty slums of Victorian London, the glittering balls of the Royal Palace, and the menacing Otherworld, in a thrilling tale where no one and nothing is what it seems. Deception, twists, diabolical faeries, a gutsy heroine and a sexy love interest all woven into a spectacular wild ride. You'll devour every page—compelled to finish but never wanting it to end!"—Alyssa Kirk, teensreadandwrite.com
"I stayed up until 2 am devouring The Faerie Ring—it was fantastic! Deeply imaginative and creative, I was instantly absorbed into Tiki's mysterious world."—Ashley Simmons, booksobsession.com  
"The Faerie Ring is an intriguing, beautifully written blend of historical fiction, mixed with the perfect dose of romance, mystery, and faerie lore, all set within the time period of Victorian London. I was so completely enraptured with the story that I couldn't devour this debut novel fast enough."—Katie Bartow, mundiemoms.blogspot.com  
"The Faerie Ring is an enchanting novel, woven with dramatic adventure, intriguing faerie lore and a charming love story! I couldn't stop turning the pages even though I didn't want the story to end!"—Kristi Diehm, thestorysiren.com 
"This thrilling and otherworldly tale is full of suspense, danger, and magic. Kiki Hamilton has crafted a magical and exciting debut with a rich narrative. Set during the winter of 1871 in London, Hamilton beautifully captures that time. Ms. Hamilton's London is grim, unforgiving, yet romantic. This is an engrossing and gut-wrenching story of loss, hardship, family and survival. The plot is filled with treachery, magic and deadly faeries. Imaginative, atmospheric, and clever, this one is definitely not to be missed."—Angela Leonard, darkfaerietales.com   
"An exciting and mysterious debut, The Faerie Ring combines three of my favorite things: faeries, romance, and history. I can't recommend it enough!"—Kelsey Jones, thebookscout.blogspot.com    
"A book filled with a combination of Dickens-esque charm and faerie lore, The Faerie Ring will take you on an adventure of extraordinary proportions."—Kristen Harvey, bookworminginthe21stcentury.com
"Bold, unique and well-written, The Faerie Ring blends the fey, old-time London and strong characters to make a great story."—Kari Olson, "If you're interested in historical fiction, urban fantasy, faerie stories, strong female protagonists, and impeccable world building, read this book. If you're not? Read it anyway, and find out why you should be!"—Candace Cunard, teensreadtoo.com  
Tor Books, 9780765327222, 348pp.
Publication Date: September 27, 2011
About the Author
Kiki Hamilton believes in faeries. And magic. Though she has a BA in Business Administration from Washington State University and has run a business with her husband for many years, as well as worked in a variety of management positions for other companies, her first love is writing young adult stories of fantasy and adventure. Kiki lives near Seattle, Washington, where it only rains part of the time. She is a member of The Class of 2k11, The Elevensies and also blogs at The Enchanted Inkpot.
or
Not Currently Available for Direct Purchase