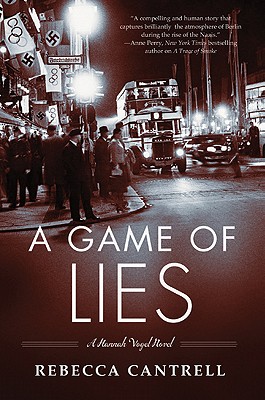 A Game of Lies (Hardcover)
Forge Books, 9780765327338, 320pp.
Publication Date: July 5, 2011
Other Editions of This Title:
Paperback (2/28/2017)
Paperback (5/8/2012)
* Individual store prices may vary.
Description
Journalist Hannah Vogel returns in A Game of Lies by award-winning author Rebecca Cantrell In preparation for the 1936 Berlin Olympics, the Nazis have rid the streets of anti-Semitic material and other propaganda, and present a peace-seeking face to the world. Journalist and part-time spy for the British, Hannah Vogel, shudders to think of what lies under the temporary coat of gloss.
Posing as travel reporter Adelheid Zinsli and lover of SS officer Lars Lang, Hannah has been collecting Nazi secrets from Lang and smuggling them back to Switzerland. Wanted by the SS, her travel in and out of Germany has always been fraught with danger, but this trip is especially treacherous.
Surrounded by former colleagues who could identify her, Hannah tries to keep a low profile while reporting on the Games as Adelheid. Her relationship with Lang gets more complicated as he sinks into alcoholism; the whispers she hears about his work in the SS give her chills. Whose side is he on?
Hannah agrees to meet her mentor, Peter Weill, at the Stadium, but before he can reveal information that will expose the Nazis, he dies in front of her. Hannah suspects poison.
Hannah must discover who killed Weill and get his secret package out of the country before the Olympics end and the Nazis tighten their noose…and before her true identity is revealed. And her partner may be the very one about to expose her…
About the Author
Award-winning author Rebecca Cantrell majored in German, Creative Writing, and History at the Freie Universitaet of Berlin and Carnegie Mellon University. She currently lives in Hawaii with her husband and son.
Praise For A Game of Lies…
Praise for A Game of Lies
"
A Game of Lies
is magnetic and seductive."--
Fresno Literature Examiner
 "Cantrell's books are a blast."--
Boston Herald
 "Cantrell uses the Olympics backdrop to good effect here…the prewar mood of uncertainty turning to terror remains palpable, and the climax contains some genuine surprises."--
Booklist
"Simply stunning."—Deadly Pleasures
Praise for A Night of Long Knives
"A race-against-the-clock thriller… Cantrell keeps the close calls and cliffhangers coming."—Kirkus Reviews
"Compelling, exciting, and entertaining reading. Don't miss this one."--Pop Syndicate
or
Not Currently Available for Direct Purchase