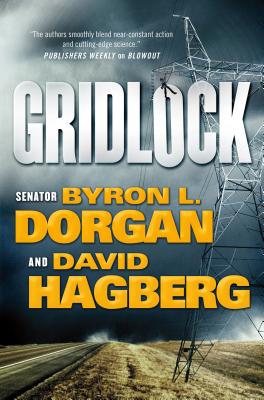 Gridlock
Hardcover

* Individual store prices may vary.
Other Editions of This Title:
Paperback (4/29/2014)
Paperback (4/29/2014)
Description
Two Iranian agents hand over one million dollars to a Russian engineer for a thumbdrive. The drive contains a deadly computer virus that could shut down all electrical power in the United States at a keystroke.
In rural North Dakota, a lineman is electrocuted, and the local cop sent to investigate is shot to death. As rolling electrical blackouts begin to shut down major US cities, the war for energy domination begins.
Two nations are behind this deadly attack: Venezuela and Iran, intent on destroying the present world order and bringing an arrogant America to its knees. Their agent of terror is Yuri Makarov, a former Spetsnaz officer, the best of the best among the shadow world of killers for hire. When governments are powerless to stop such a man from sending the United States back to the horse-and-buggy era, North Dakota county sheriff Nate Osborne and brash journalist Ashley Borden once again step into the breach.
Gridlock is a harrowing near-future thriller from New York Times bestselling duo Senator Byron Dorgan and David Hagberg.
Praise For Gridlock…
"Here's the high-stakes, mile-a-minute, knock-your-socks-off, page-turning political thriller of the year. Senator Byron Dorgan and thriller-master David Hagberg make one helluva storytelling team. From the first scene to the last page, they're aiming high and hitting every bulls-eye."
—William Martin, New York Times bestselling author

"Senator Byron Dorgan and David Hagberg deliver a thriller crackling with realism and shocking authenticity. Right now, Gridlock is a hair-raising and fascinating fictional thrill ride. Right now. But what will the future bring?"
—Whitley Strieber, New York Times bestselling author

Praise for Blowout

"Oodles of action…now that's what I call a thriller. Sizzling hot!"
—Stephen Coonts, New York Times bestselling author of The Disciple  

"David Hagberg is a proven master of the thriller genre and Senator Byron Dorgan brings a unique, insider's view on politics and the world. Together they've woven a complicated tale, told deceptively simple, that will leave you wanting more. Plenty of sizzle in this page-turner."
—Steve Berry, New York Times bestselling author of The Jefferson Key

"Combining masterly writing skills with deep knowledge of their subject, authors Dorgan and Hagberg serve up a unique, thought-provoking and, above all, ceaselessly exciting novel about today's hidden security threat: our willingness to overlook evil in our addiction to foreign energy supplies. The pace will make you sweat, the plot will make you think, and the peril is very real."
—Ralph Peters, New York Times bestselling author of Cain at Gettysburg 

"Dorgan and Hagberg have written an edge-of-the-seat thriller about energy that will stretch your imagination and keep you guessing until the very last page."
—Former U.S. Senate Majority Leader Tom Daschle

"This book hits the bull's-eye on our energy challenge. How to end our addiction to foreign oil by finding new ways to produce energy here at home while at the same time protecting our environment? Blowout combines a healthy imagination about an energy future with fast-paced action."
—Former Governor of New Mexico and U.S. Energy Secretary Bill Richardson
Forge, 9780765327383, 431pp.
Publication Date: July 9, 2013
About the Author
BYRON L. DORGAN served as a congressman and senator for North Dakota for thirty years. He was chairman of Senate committees and subcommittees on the issues of energy, aviation, appropriations, water policy, and Indian affairs. DAVID HAGBERG is a former Air Force cryptographer who has traveled extensively in Europe, the Arctic, and the Caribbean. He has published more than seventy novels of suspense, including the bestselling Allah's Scorpion, The Expediter, and Abyss.
or
Not Currently Available for Direct Purchase