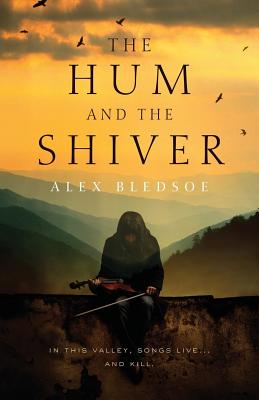 The Hum and the Shiver
A Novel of the Tufa (Tufa Novels #1)
Paperback

* Individual store prices may vary.
Other Editions of This Title:
Digital Audiobook (9/26/2011)
Mass Market (11/26/2013)
MP3 CD (9/27/2011)
Compact Disc (9/27/2011)
Description
The Hum and the Shiver by Alex Bledsoe is an enchanting tale of music and magic older than the hills, and the first book in the wondrous Tufa series. . . .


"Imagine a book somewhere between American Gods and Faulkner. In brief: a good book. Absolutely worth your time."—Patrick Rothfuss, New York Times bestselling author, on The Hum and the Shiver


No one knows where the Tufa came from, or how they ended up in the Smoky Mountains of East Tennessee. Enigmatic and suspicious of outsiders, the Tufa live quiet lives in the hills and valleys of Cloud County. While their origins may be a mystery, there are hints of their true nature buried in the songs they have passed down for generations.

Bronwyn Hyatt, a pure-blood Tufa, has always insisted on doing things her own way, regardless of the consequences. Even though Tufa rarely leave Cloud County, she enlisted in the Army to escape the pressures of Tufa life—her family, her obligations as a First Daughter, and her dangerous ex-boyfriend. But after barely surviving a devastating ambush that killed most of her fellow soldiers, Private Hyatt returns to Cloud County wounded in body and in spirit. But danger lurks in the mountains and hollows of her childhood home. Cryptic omens warn of impending tragedy, and a restless "haint" lurks nearby, waiting to reveal Bronwyn's darkest secrets. Worst of all, Bronwyn has lost touch with the music that was once a vital part of her identity.

Now Bronwyn finds the greatest battle to be right here at home, where her obligations struggle with her need for freedom, and if she makes the wrong choice, the consequences could be deadly for all the Tufa. . . .

"A sheer delight."—Kirkus Reviews, starred review

Enter the captivating world of the fae in Alex Bledsoe's Tufa novels

The Hum and the Shiver
Wisp of a Thing
Long Black Curl
Chapel of Ease
Gather Her Round
Praise For The Hum and the Shiver: A Novel of the Tufa (Tufa Novels #1)…
"Imagine a book somewhere between American Gods and Faulkner. In brief: a good book. Absolutely worth your time." —Patrick Rothfuss, New York Times bestselling author

"As raw and bewitching as the music and magic that fuel it. I loved this book for many reasons--the bone-deep mystery, the setting, the music, and the harsh beauty of its characters. It gives a new meaning to well played." —Rachel Caine, New York Times bestselling author

"Haunting . . . A rustic version of 'urban fantasy,' with its suggestion that there's mystery just around the corner, hidden behind even the dullest small-town facade." —Wall Street Journal

"With a deep love for the mountains embedded in his language, Bledsoe crafts a deceptively simple story of family and community, laced throughout with the music and beliefs of a magical reality. Elegantly told." —Library Journal, starred review

"This powerful, character-driven drama, set forth in superbly lucid prose, occurs against an utterly convincing backdrop and owns complications enough to keep everyone compulsively turning the pages. A sheer delight." —Kirkus Reviews, starred review

"Bledsoe's rich, nearly poetic prose . . . captured me at page one and didn't let me go to the end. If you are a fan of urban fantasy, this is a book you need to add to your list today. There are secrets ancient and wild waiting for you to discover, and I enjoyed every minute." —Seattle Post-Intelligencer

"Bledsoe turns standard urban fantasy tropes on their head. . . . The slowly unfolding mystery of the Tufa is a fascinating and absorbing masterpiece of world-building." —Publishers Weekly
Tor Books, 9780765327444, 352pp.
Publication Date: September 27, 2011
About the Author
ALEX BLEDSOE is the author of the Eddie LaCrosse novels (The Sword-Edged Blonde, Burn Me Deadly, Dark Jenny, and Wake of the Bloody Angel), the novels of the Tufa (The Hum and Shiver, Wisp of a Thing, Long Black Curl, and Chapel of Ease), and the Memphis Vampires (Blood Groove and Girls with Games of Blood). Bledsoe grew up in Memphis, Tennessee. He now lives in Madison, Wisconsin.