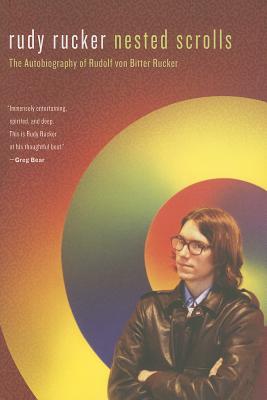 Nested Scrolls (Hardcover)
The Autobiography of Rudolf von Bitter Rucker
Tor Books, 9780765327529, 336pp.
Publication Date: December 6, 2011
Other Editions of This Title:
Paperback (12/11/2012)
* Individual store prices may vary.
Description
Nested Scrolls reveals the true life adventures of Rudolf von Bitter "Rudy" Rucker—mathematician, transrealist author, punk rocker, and computer hacker. It begins with a young boy growing up in Louisville, Kentucky, the son of a businessman father who becomes a clergyman, and a mother descended from the philosopher Hegel. His career goals? To explore infinity, popularize the fourth dimension, seek the gnarl, become a beatnik writer, and father a family.
All the while Rudy is reading science fiction and beat poetry, and beginning to write some pretty strange fiction of his own—a blend of Philip K. Dick and hard SF that qualifies him as part of the original circle of writers in the early 1980s that includes Bruce Sterling, William Gibson, John Shirley, and Lewis Shiner, who were the founders of cyberpunk.
At one level, Rucker's genial and unfettered memoir brings us a first-hand account of how he and his contemporaries ushered in our postmodern world. At another, this is the wry and moving tale of a man making his way from one turbulent century to the next.
Nested Scrolls is like its author: sweet, gentle, honest, and intellectually fierce.
About the Author
RUDY RUCKER lives in Los Gatos, California. He has twice won the Philip K. Dick Award.
Praise For Nested Scrolls: The Autobiography of Rudolf von Bitter Rucker…
"Rucker is an artist well worth discovering, reading, and keeping up with... [His novels] sparkle with deadpan wit and a natural storyteller's flair."
--The Washington Post

"Science Fiction author-hero Rudy Rucker is an oddity and a treasure.... In these days of neat little marketing categories, few writers attempt to cover so much ground."
--Wired


"Rudy Rucker is in possession of one of the world's most powerful and interesting minds... And he's holding it for ransom! Nested Scrolls is immensely entertaining, spirited and deep. This is Rudy Rucker at his thoughtful best."
--Greg Bear, author of Eon

"Rudy Rucker is the most consistently brilliant imagination working in SF today."
--Charles Stross, author of the Merchant Princes series

"Rucker's Nested Scrolls is a time machine set to move you from 1946 up to the present day Chaosium inside a capsule attached to Rudy's eyes, which let you see from the infra-red up into the colors of the gamma region, especially when he gets glasses after the age of nine.  Travel through a roller-coaster life from the viewpoint of an imaginative boy who grew up to be a mathematician and then moved on into the many dimensional world of a multi-universe traveling writer.  Don't forget to hang onto the rails."
--Donald Kingsbury, author of Courtship Rite
"Like all the best memoirists, Rudy Rucker allows us to glimpse through him the contours of our own lives, and to ponder, a little wistfully, why they couldn't have  been more like his." --Paul Park, author of A Princess of Roumania

"Nested Scrolls is a wild but good-hearted ride through the life of counter-culture mathematician and transrealist science fiction writer, Rudy Rucker. While his journeys toward becoming a writer, mathematician, and computer scientist are initially made easier by use of alcohol and recreational drug, eventually he has to choose to sober up or risk losing everything.  It is a remarkable memoir." --Kathryn Cramer, editor of The Architecture of Fear

"I welcome this important book. It's time the world knew the truth about Rudy Rucker. Now the healing can begin." --Terry Bisson, author of "Bears Discover Fire"
or
Not Currently Available for Direct Purchase