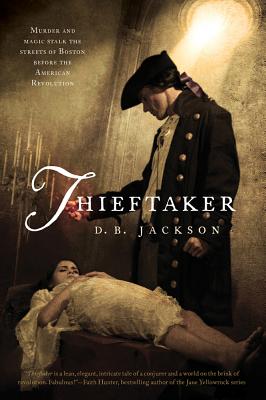 Thieftaker (The Thieftaker Chronicles #1)
Hardcover

* Individual store prices may vary.
Other Editions of This Title:
Paperback (7/2/2013)
Compact Disc (5/4/2021)
Mass Market (7/2/2013)
MP3 CD (5/3/2016)
Description
In Thieftaker, D. B. Jackson delivers a thrilling debut tale of magic and intrigue that will leave readers breathless and eager for more Ethan Kaille.
Boston, 1765: In D.B. Jackson's Thieftaker, revolution is brewing as the British Crown imposes increasingly onerous taxes on the colonies, and intrigue swirls around firebrands like Samuel Adams and the Sons of Liberty. But for Ethan Kaille, a thieftaker who makes his living by conjuring spells that help him solve crimes, politics is for others…until he is asked to recover a necklace worn by the murdered daughter of a prominent family.
Suddenly, he faces another conjurer of enormous power, someone unknown, who is part of a conspiracy that reaches to the highest levels of power in the turbulent colony. His adversary has already killed—and not for his own gain, but in the service of his powerful masters, people for whom others are mere pawns in a game of politics and power. Ethan is in way over his head, and he knows it. Already a man with a dark past, he can ill afford to fail, lest his livelihood be forfeit. But he can't stop now, for his magic has marked him, so he must fight the odds, even though he seems hopelessly overmatched, his doom seeming certain at the spectral hands of one he cannot even see.
Praise For Thieftaker (The Thieftaker Chronicles #1)…
"D. B. Jackson has masterfully woven history and fantasy to create a pre-Revolutionary Boston that should have been. Peopled by an array of entertaining characters from conjurers to revolutionaries, Thieftaker is a compelling debut novel by a writer who knows what he's doing. I look forward to reading more of Ethan Kaille's adventures!" —C. E. Murphy, author of Urban Shaman and The Queen's Bastard
"An elegant, intricate tale of a multilayered, tortured conjurer and a world on the brink of war. With skillful, clever plotting and prose sharper than a spelled blade, D. B. Jackson has woven real history with imagination and created a character and a story to believe in and cheer for." —Faith Hunter, bestselling and award-winning author of the Jane Yellowrock Series
"A beautiful balance of magic and crime, history and fantasy that was fast-paced, compelling, and completely absorbing. Historical fantasy that reads like an old-school crime novel, as if Raymond Chandler were channeling Jonathan Swift. I loved it!" —Kat Richardson, bestselling author of the Greywalker series
Tor Books, 9780765327611, 336pp.
Publication Date: July 3, 2012
About the Author
D. B. JACKSON was born in one of the thirteen colonies but now lives in Tennessee. Thieftaker is his first novel.
or
Not Currently Available for Direct Purchase