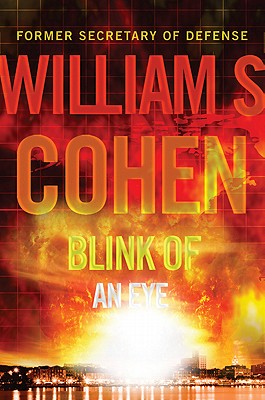 Blink of an Eye (Hardcover)
Forge Books, 9780765327642, 368pp.
Publication Date: November 8, 2011
* Individual store prices may vary.
or
Not Currently Available for Direct Purchase
Description
It is America's worst nightmare: A nuclear bomb destroys a major city. Thousands of Americans are dead and many more will die from radiation poisoning. Threats promising more attacks spread through the media. Panic has broken out in many cities. How could American intelligence have failed to detect a nuclear device? Who is responsible for the blast?
Sean Falcone, national security advisor, is tasked with identifying and tracking down the attackers. Powerful forces within the Capital point the finger at Iran. But appearances are always deceiving, and never more so than when millions of innocent people may die for a crime they did not commit. With the potential to incite the entire Muslim world against America and bring the world to the brink of Armageddon, Falcone discovers an astonishing secret hidden deep within the upper echelons of Washington's elite...but why should the President—or the American people—believe him?
Pulling from years of international affairs and defense planning experience, the former Secretary of Defense under Bill Clinton creates a sweeping, all-too-real political thriller.
About the Author
WILLIAM S. COHEN served as Secretary of Defense under President Bill Clinton from 1997-2001. A Republican, Cohen spent twenty-four years in office as a Congressperson and a Senator before his noteworthy appointment to the cabinet of a Democratic president. During his tenure as the 20th U.S. defense minister, Cohen directed America's military actions in Iraq and Kosovo. In 2001, he founded the Cohen Group, a global business consulting firm. He has written for "The Washington Post," the "Financial Times," " The New York Times, "and "The Wall Street Journal" and is the author of the novel "Dragon Fire." William S. Cohen lives with his wife in the Washington, D.C. area.
Praise For Blink of an Eye…
Praise for William S. Cohen
"Both a fantastic thriller and a revealing glimpse into government. Read it for the excitement, but then pause and think about what we should learn from the tale."
--Walter Isaacson, New York Times bestselling author of Einstein on Blink of an Eye
"William Cohen's finest work yet…riveting, chilling, and an all too real premise. From its engrossing start to his extraordinary climax, this is one book where the pages seem to turn themselves."
--Richard North Patterson, New York Times bestselling author of In the Name of Honor on Blink of an Eye
"Masterful. Cohen knows all the secrets. This is a story that lays out the detail and the stakes for what President Obama said would be a genuine game changer."
--Bob Woodward, New York Times bestselling author of Obama's Wars on Blink of an Eye
"A riveting, intense story told by a man who understands this potential threat better than anyone else in America! Guaranteed to make you think twice about just how safe we are!"
--H. Hugh Shelton, General (Ret.), 14th Chairman, Joint Chiefs of Staff and author of Without Hesitation on Blink of an Eye
"William S. Cohen leaves the competition far behind with his insider's command of detail and grasp of how flesh-and-blood leaders make fateful decisions.  Sharp and knowing, Blink of an Eye pre-empts tomorrow's most-frightening headlines."
--Ralph Peters, New York Times bestselling author of The War After Armageddon
"This is a great read from a man who knows a thing or two about national security. As secretary of defense, Bill Cohen helped lead our military into the 21st century. Now he's drawn upon his extensive experience to write a gripping tale of excitement and intrigue."
—President Bill Clinton on Dragon Fire


"A riveting thriller played out on a world stage for the highest stakes imaginable… Dragon Fire forcefully engages us with spellbinding personal and professional intrigue set within a framework of international power politics that feels as authentic as it is exhilarating."
—Senator John McCain
Coverage from NPR
Advertisement