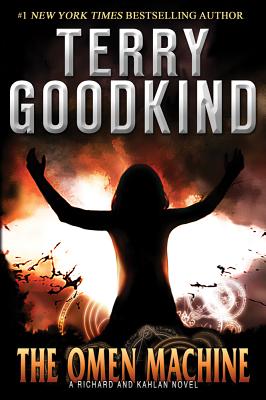 The Omen Machine (Hardcover)
Tor Books, 9780765327727, 525pp.
Publication Date: August 16, 2011
Description
"Hannis Arc, working on the tapestry of lines linking constellations of elements that constituted the language of Creation recorded on the ancient Cerulean scroll spread out among the clutter on his desk, was not surprised to see the seven etherial forms billow into the room like acrid smoke driven on a breath of bitter breeze. Like an otherworldly collection of spectral shapes seemingly carried on random eddies of air, they wandered in a loose clutch among the still and silent mounted bears and beasts rising up on their stands, the small forest of stone pedestals holding massive books of recorded prophecy, and the evenly spaced display cases of oddities, their glass reflecting the firelight from the massive hearth at the side of the room."

"Since the seven rarely used doors, the shutters on the windows down on the ground level several stories below stood open as a fearless show of invitation. Though they frequently chose to use windows, they didn't actually need the windows any more than they needed the doors. They could seep through any opening, any crack, like vapor rising in the early morning from the stretches of stagnant water that lay in dark swaths through the peat barrens."

"The open shutters were meant to be a declaration for all to see, including the seven, that Hannis Arc feared nothing."
#1 "New York Times"-bestselling author Terry Goodkind returns to the lives of Richard Rahl and Kahlan Amnell in a compelling tale of a new and sinister threat to their world.
About the Author
Terry Goodkind is a #1 New York Times bestselling author. His books include the eleven-volume Sword of Truth series, beginning with Wizard's First Rule, the basis for the television show Legend of the Seeker. Goodkind was born and raised in Omaha, Nebraska, where he also attended art school. Alongside a career in wildlife art, he has also been a cabinetmaker and a violin maker, and he has done restoration work on rare and exotic artifacts from around the world -- each with its own story to tell, he says. While continuing to maintain the northeastern home he built with his own hands, in recent years he and his wife Jeri have created a second home in the desert Southwest, where he now spends the majority of his time.
Praise For The Omen Machine…
"Goodkind's greatest triumph: the ability to introduce immediately identifiable characters. His heroes, like us, are not perfect. Instead, each is flawed in ways that strengthen, rather than weaken their impact. You'll find no two-dimensional oafs here. In fact, at times you'll think you're looking at your own reflection." --SFX on Blood of the Fold  "Few writers have Goodkind's power of creation—phenomenal piece of imaginative writing, exhaustive in its scope and riveting in its detail." --Publishing News on Temple of the Winds "Mr. Goodkind's compelling prose weaves a magic spell over readers." --RT Book Reviews on Faith of the Fallen
"Outstanding…. Highly recommended." --San Diego Union Tribune on Temple of the Winds "Makes an indelible impact." --Publishers Weekly on Faith of the Fallen
Advertisement