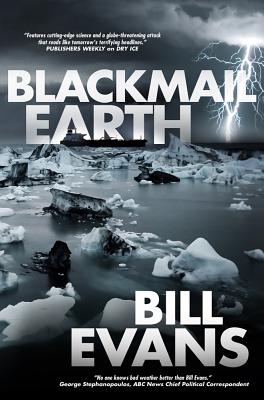 Blackmail Earth (Hardcover)
Tor Books, 9780765327833, 318pp.
Publication Date: June 19, 2012
* Individual store prices may vary.
or
Not Currently Available for Direct Purchase
Description
"The Morning Show's" star meteorologist, Jenna Withers, reports on the blistering conditions of a nationwide drought every day. But nothing this alluring young woman has ever experienced can prepare her for the terrifying intersection of extreme weather and extreme politics.
After Jenna receives a controversial appointment to a special White House task force on geoengineering, she learns about a lot more than the President's desire to use technology to address global warming. Through old contacts, Jenna hears that Muslim extremists in the Maldives have begun to publicly blame the West for the rising seas that imperil the tiny Pacific island nation. They are planning a suicide bombing that could lead to a sudden and disastrous cooling of the planet.
Rick Birk, an aging, alcoholic colleague of Jenna's, is dispatched to report on the turmoil in the Maldives. To his and everyone else's shock, he becomes a central and bizarre figure in the unfolding panic.
News of the Islamist threat sets off an even more horrifying plan in North Korea. The Supreme Leader, desperate for aid, threatens to hold the world hostage with his own, disaster-creating brand of geoengineering, one that takes aim at the skies.
Those escalating international tensions are set against the grisly murder of an intriguing Pagan woman in rural New York, Jenna Withers's budding romance with an organic dairy farmer, and a fiercely contested presidential campaign.
This swiftly paced tale takes Jenna from the Oval Office to the sandy shores of the Indian Ocean, from the sophisticated set of "The Morning Show" to her new boyfriend's dusty dairy farm. Filled with fascinating and unusual characters, and told from multiple and deeply moving points of view, "Blackmail Earth "culminates in a furious battle raging in the heart of Manhattan.
About the Author
BILL EVANS has won multiple Emmy Awards as Senior Meteorologist for WABC, where he can be seen every weekday. He can be heard nationally on the ABC Radio Network, Martha Stewart Living Radio, and ESPN Radio, and in the New York metropolitan area on WPLJ. Evans is coauthor of the "New York Times "bestseller "Category 7 "(with Marianna Jameson). He holds an honorary Doctorate in Letters of Humanity from Dowling College. Evans and his family live in Connecticut.
Praise For Blackmail Earth…
"Weather coverage has never been bigger! Read Blackmail Earth if you are a fool for weather and/or environmental disaster theories. And try answering the author's question: Is it conceited for mankind to think that it could actually alter the planet's climate, or can this be a reality?"
—Liz Smith, Chicago Tribune

"No one knows bad weather better than Bill Evans."—George Stephanopoulos, ABC News Chief Political Correspondent

"Evans creates meteorological mayhem with a dose of reality you can only get from a weather expert."
—Brian Norcross, Hurricane Specialist, The Weather Channel
"Features cutting-edge science and a globe-threatening attack that reads like tomorrow's terrifying headlines."—
Publishers Weekly
on
Dry Ice


"Entertains from first page to last.  Not just a great thriller, it's sometimes funny and always deeply human."—Bill Cosby on
Dry Ice


"It's a great plot, scarier than a terrifying tornado, stronger than a horrible hurricane, but don't worry, Bill Evans will bring you home safe and sound." —Regis Philbin on
Dry Ice


"If you thought you knew Bill Evans from his affable, New York TV weathercasts, think again.  In Dry Ice, he proves to be a meteorological Merlin who conjures up a gripping plot twister.  Hang on to your raincoats, people.  We ain't in Kansas anymore!"—Tom Bergeron, host, Dancing with the Stars
"[A] fast-moving, edge-of-the-seat thriller. Storm warning: as events unfold you will not be able to put this down!"—Lieutenant Colonel (ret.) Gordon Cucullu, author of
Inside Gitmo
on
Dry Ice


"This is one of those novels where you sit back and let the action wash over you. A fast-paced action-adventure that promises a rousing finale and delivers it."
—Booklist
on
Category 7


"
Category 7
is a superb thriller . . . Suspenseful and shocking."—Clive Cussler,
New York Times
bestselling author
Advertisement