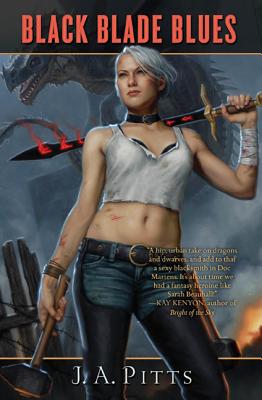 Black Blade Blues (Sarah Jane Beauhall #1)
Paperback

* Individual store prices may vary.
Other Editions of This Title:
MP3 CD (5/31/2016)
Description
Sarah Beauhall has more on her plate than most twenty-somethings: day job as a blacksmith, night job as a props manager for low-budget movies, and her free time is spent fighting in a medieval re-enactment group.

The lead actor breaks Sarah's favorite one-of-a-kind sword, and to avoid reshooting scenes, Sarah agrees to repair the blade. One of the extras, who claims to be a dwarf, offers to help. And that's when things start to get weird. Could the sword really be magic, as the "dwarf" claims? Are dragons really living among us as shapeshifters?

And as if things weren't surreal enough, Sarah's girlfriend Katie breaks out the dreaded phrase… "I love you." As her life begins to fall apart, first her relationship with Katie, then her job at the movie studio, and finally her blacksmithing career, Sarah hits rock bottom. It is at this moment, when she has lost everything she has prized, that one of the dragons makes their move.

And suddenly what was unthinkable becomes all too real…and Sarah will have to decide if she can reject what is safe and become the heroine who is needed to save her world.
Praise For Black Blade Blues (Sarah Jane Beauhall #1)…
"Pitts combines Norse mythology, smith-lore and a deep love of the Pacific Northwest in this fast-paced urban fantasy about dragons posing as investment bankers, Hummer-driving giants, and the woman who must defeat them while fighting her own demons of doubt and self-identity. A fresh look at some classic themes, Black Blade Blues will delight readers seeking the thrill of fantasy amid the everyday reality of overdue bills, bad traffic, and ancient plots to overthrow the order of the world." —Jay Lake, author of Escapement

"Pitts is an exciting new voice on the fantasy scene. Black Blade Blues takes the reader on a rollicking adventure full of pathos and humor. It's a sweet combination of classic fantasy and today's complex urban world. Be sure to read this exhilarating debut novel." —Brenda Cooper, award-winning author of The Silver Ship and the Sea and Reading the Wind

"Sarah Beauhall is half girl, half warrior, and all attitude. She's a skilled blacksmith who discovers a sword of great power, and finds herself in a battle against an ancient dragon, with dwarves and giants and trolls on every side, fighting to preserve her very way of life. In the midst of everything, and against the mystical backdrop that is today's Pacific Northwest, Sarah's finding out just what that way of life is meant to be--and she's not sure it suits her. Black Blade Blues is a fast-moving, action-packed story, one to please all readers of urban fantasy." —Louise Marley, author of The Singers of Nevya
Tor Books, 9780765327932, 400pp.
Publication Date: April 27, 2010
About the Author
J. A. PITTS is a graduate of the Oregon Coast Writers Workshops, holds degrees in English and Library Science and is the author of Black Blade Blues, Honeyed Words and Forged in Fire.