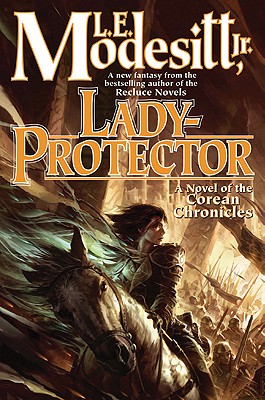 Lady-Protector: The Eighth Book of the Corean Chronicles (Hardcover)
The Eighth Book of the Corean Chronicles
Tor Books, 9780765328045, 464pp.
Publication Date: March 15, 2011
* Individual store prices may vary.
or
Not Currently Available for Direct Purchase
Description
A new novel of Mykella, the young woman introduced in "The Lord-Protector's Daughter." Though a bloody coup has made Mykella ruler of her land, it has left her and her two sisters bereft of family and uncertain of their friends. Worse, an examination of the nation's accounts reveals that their country is almost destitute. Plus, there are rumblings of war along the borders. With no money and few allies, Mykella is faced with the difficult prospect of rebuilding her nation while trying to hold off a potentially devastating invasion.
Fortunately for Mykella, an old magic has awakened in her; a power that gives her the ability to read the emotions of others and to spy on the movements of her enemies. But the resurgence of this power might herald the return of an ancient enemy, one that Mykella isn't sure how to face.
L.E. Modesitt, Jr. returns to the world of The Corean Chronicles with a novel filled with politics, adventure, magic, and romance.
About the Author
L. E. Modesitt, Jr., is the bestselling author of the fantasy series The Saga of Recluce, Corean Chronicles, and the Imager Portfolio. His science fiction includes "Adiamante," the Ecolitan novels, the Forever Hero Trilogy, and "Archform: Beauty." Besides a writer, Modesitt has been a U.S. Navy pilot, a director of research for a political campaign, legislative assistant and staff director for a U.S. Congressman, Director of Legislation and Congressional Relations for the U.S. Environmental Protection Agency, a consultant on environmental, regulatory, and communications issues, and a college lecturer. He lives in Cedar City, Utah.
Praise For Lady-Protector: The Eighth Book of the Corean Chronicles…
Praise for The Corean Chronicles:

"Modesitt reveals again why success follows his novels. The characters are flawless, his world-building continues to enchant and there is always plenty of conflict and mystery."
—RT Book Reviews on The Lord-Protector's Daughter

"The characters have become more fascinating with each novel; moreover, this one includes even more action than either of its predecessors…which contributes mightily to bringing the adventures of Dainyl, Alector of Corus, and Mykel, an officer in the native military corps, to a stunning conclusion while leaving enough unanswered questions for many more Corean stories."
—Booklist, starred review on Soarer's Choice
Advertisement