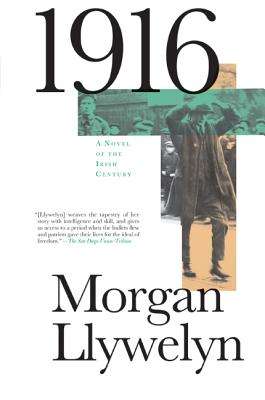 1916 (Paperback)
A Novel of the Irish Rebellion (Irish Century #1)
Forge Books, 9780765328113, 448pp.
Publication Date: November 23, 2010
Other Editions of This Title:
Paperback (3/1/2016)
Mass Market Paperbound (1/1/2008)
MP3 CD (8/18/2015)
MP3 CD (3/7/2008)
MP3 CD (3/7/2008)
* Individual store prices may vary.
Description
Ned Halloran lost both his parents-and almost his own life-in the sinking of the Titanic. Determined to keep what little he has, he returns to his homeland of Ireland and enrolls at Saint Edna's school in Dublin. Saint Edna's headmaster is the renowned scholar and poet, Patrick Pearse--who is soon to gain greater fame as a rebel and patriot. Ned becomes totally involved with the growing revolution…and the sacrifices it will demand.
Through Ned's eyes, 1916 examines the Irish fight for freedom-inspired by poets and schoolteachers, fueled by a desperate desire for independence, and played out in the historic streets of Dublin against the background of World War I. It is a story of the brave men and heroic women who, for a few unforgettable days, managed to hold out against the might of the British Empire.
The Irish Century Novels
1916: A Novel of the Irish Rebellion
1921: The Great Novel of the Irish Civil War
1949: A Novel of the Irish Free State
1972: A Novel of Ireland's Unfinished Revolution
1999: A Novel of the Celtic Tiger and the Search for Peace
About the Author
Since 1980, Morgan Llywelyn has created an entire body of work chronicling the Celts and Ireland, from the earliest times to the present day. Her critically acclaimed novels, both of history and of mythology, have been translated into many languages. Her books include 1916 and Bard: The Odyssey of the Irish. She is an Irish citizen and lives in Dublin.
Praise For 1916: A Novel of the Irish Rebellion (Irish Century #1)…
"The politics and factionalism behind the Rising are a tangled web indeed, but Llywelyn unravels them skillfully. Even those who know the story well will be surprised and rewarded by the way she brings back to life a group of brave men who went nobly to their deaths." —The Philadelphia Inquirer
"Llywelyn's strength as a writer is to be found…in her ability to follow a course, sewing it seamlessly into what must have been a daunting array of historical notes.…She weaves the tapestry of her story with intelligence and skill, and gives us access to a period when the bullets flew and patriots gave their lives for the ideal of freedom, not knowing that from the ashes of their martyrdom 'the right of the people of Ireland to the ownership of Ireland' would be acknowledged, and an Irish Republic would be born." —San Diego Union-Tribune