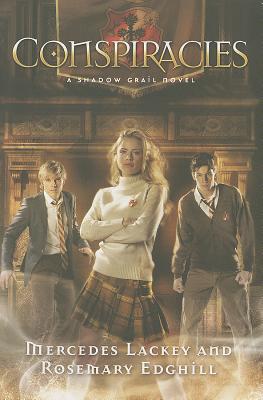 Conspiracies (Hardcover)
Tor Books, 9780765328236, 342pp.
Publication Date: July 5, 2011
* Individual store prices may vary.
or
Not Currently Available for Direct Purchase
Description
The second book in the Shadow Grail series by the "New York Times," "USA Today," and "Publishers Weekly "bestselling authors Mercedes Lackey and Rosemary Edghill
Spirit and her friends Burke, Loch, Muirin, and Addie have managed to defeat the evil force that has been killing students at Oakhurst Academy for the past forty years--or so they think. When a series of magical attacks disrupts the school, Doctor Ambrosius calls upon alumnus Mark Rider to secure the campus--and start training the students for war. The only student without magic, Spirit doesn't trust Mark or his methods. She knows that Oakhurst isn't safe. And if Spirit and her friends want to live long enough to graduate, they have to find out what is really going on--before it's too late.
About the Author
Mercedes Lackey is the author of the bestselling Valdemar series, the Obsidian Trilogy ("The Outstretched Shadow," "To Light a Candle," and "When Darkness Falls"), the Enduring Flame trilogy ("The Phoenix Unchained," "The Phoenix Endangered," and "The Phoenix Transformed"), and the Tales of the Five Hundred Kingdoms. She has written many other books, including "Trio of Sorcery," "Phoenyx and Ashes," "Sacred Ground," "The Firebird," "The Fairy Godmother," and "Alta." Lackey is the co-author, with Andre Norton, of the Halfblood Chronicles, including "Elvenborn." Mercedes Lackey was born in Chicago and graduated from Purdue University. She has worked as an artist's model, a computer programmer, and for American Airlines, and has written lyrics and recorded more than fifty songs. She lives in Oklahoma.Rosemary Edghill is a prolific writer in several genres, under her own name and various pseudonyms. She lives in upstate New York with several cats and several Cavalier King Charles Spaniels, which she shows in obedience competitions.
Praise For Conspiracies…
Praise for Shadow Grail #1: Legacies:
" Lackey and Edghill know how to spin a yarn, immediately pulling the reader into Spirit's mourning psyche as well as the fast-paced action of the mystery, mixing marvelous elements of fairy tales and mythology into both the plot and references in the students'Magical History class.…There's also a touch of romance, and readers who appreciate everything from X -Men to Harry Potter will be begging for the sequel." —Booklist
"The authors expertly balance a heady mixture of mystery and teenage romance in this well-paced first of the Shadow Grail series."—RT Book Reviews
Advertisement