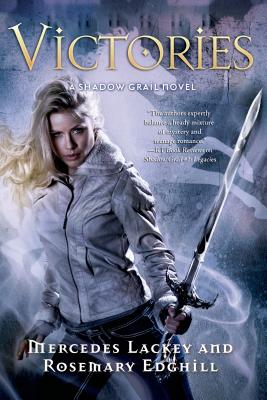 Shadow Grail #4 (Hardcover)
Victories
Tor Teen, 9780765328267, 256pp.
Publication Date: April 22, 2014
Other Editions of This Title:
Paperback (4/22/2014)
* Individual store prices may vary.
Description
Spirit White and her friends Burke, Loch, and Addie have escaped from Oakhurst Academy. But their freedom has come at a terrible cost--a dear friend sacrificed her own life to save theirs. In the wake of Muirin's death, they are also forced to deal with the terrifying truth behind the facade of Oakhurst Academy: all of the legends are true.
Queen Guinevere, King Arthur and the Knights of the Round Table really had existed. With the magic of Merlin, they were able to imprison their greatest foe, Mordred, before he could plunge the world back into the Dark Ages. But Mordred is now free, in charge of Oakhurst Academy, and determined to finish what he started so long ago.
Pursued by Shadow Knights, the reincarnated remnants of Mordred's original army, Spirit's small band undertakes a quest to recover the Four Hallows, objects of immeasurable power. Memories of a past life have begun to surface, one in which Spirit wields a legendary sword. She comes to realize that these memories are the true key to Mordred's defeat. Can Spirit and her friends manage to recapture the magic of Camelot in time to save their fellow students and prevent the end of the world?
Shadow Grail #4: Victories is the fourth and final book in the Shadow Grail series by the New York Times and USA Today bestselling authors Mercedes Lackey and Rosemary Edghill.
About the Author
Mercedes Lackey
is the author of the bestselling Valdemar series, the Obsidian Trilogy (
The Outstretched Shadow
,
To Light a Candle
, and
When Darkness Falls
), the Enduring Flame trilogy (
The Phoenix Unchained
,
The Phoenix Engendered
, and
The Phoenix Transformed
), and
The Phoenix
Tales of the Five Hundred Kingdoms
. She has written many other books, including
Trio of Sorcery
,
Phoenix and Ashes
,
Sacred Ground
,
The Firebird
,
The Fairy Godmother
, and
Alta
. Lackey is the co-author, with Andre Norton, of the Halfblood Chronicles, including
Elvenborn
. Mercedes Lackey was born in Chicago and graduated from Purdue University. She has worked as an artist's model, a computer programmer, and for American Airlines, and has written lyrics and recorded more than fifty songs. She lives in Oklahoma.
Rosemary Edghill is a prolific writer in several genres, under her own name and various pseudonyms. Her Bast books, witty mysteries featuring a Wiccan amateur detective, were collected in Bell, Book, and Murder. She has also written Regency Romances and fantasy novels, including several collaborations with Mercedes Lackey (Spirits White as Lightning and Mad Maudlin) and Andre Norton (Shadow of Albion and Leopard in Exile).
Edghill lives in upstate New York with several cats and several Cavalier King Charles Spaniels, which she shows in obedience competitions.
Praise For Shadow Grail #4: Victories…
"Lackey and Edghill know how to spin a yarn. Fast-paced action… There's also a touch of romance, and readers who appreciate everything from X-Men to Harry Potter will be begging for the sequel." —Booklist
"The authors expertly balance a heady mixture of mystery and teenage romance." —RT Book Reviews
or
Not Currently Available for Direct Purchase