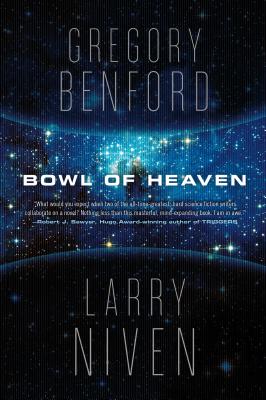 Bowl of Heaven (Hardcover)
Tor Books, 9780765328410, 416pp.
Publication Date: October 16, 2012
* Individual store prices may vary.
Description
In this first collaboration by science fiction masters Larry Niven (Ringworld) and Gregory Benford (Timescape), the limits of wonder are redrawn once again as a human expedition to another star system is jeopardized by an encounter with an astonishingly immense artifact in interstellar space: a bowl-shaped structure half-englobing a star, with a habitable area equivalent to many millions of Earths...and it's on a direct path heading for the same system as the human ship.
A landing party is sent to investigate the Bowl, but when the explorers are separated--one group captured by the gigantic structure's alien inhabitants, the other pursued across its strange and dangerous landscape--the mystery of the Bowl's origins and purpose propel the human voyagers toward discoveries that will transform their understanding of their place in the universe.
About the Author
GREGORY BENFORD is professor of physics at the University of California, Irvine, and lives in Irvine. Benford is a winner of the United Nations Medal for Literature, and the Nebula Award for his classic novel Timescape. LARRY NIVEN is the multiple Hugo and Nebula Award-winning author of the Ringworld series, along with many other science fiction masterpieces. His Beowulf's Children, coauthored with Jerry Pournelle and Steven Barnes, was a New York Times bestseller. He lives in Chatsworth, California.
Praise For Bowl of Heaven…
"Bowl of Heaven is the first installment of what will be the biggest sci-fi saga since—well, since ever. If only more of us could share the authors' visions, and optimism."
—The Wall Street Journal

"It's easy to settle in and enjoy the sci-fi smorgasbord served up by Gregory Benford and Larry Niven. . .There's a lot to savor. Fans of so-called "hard science fiction" will enjoy the descriptions of ionic scoop fusion drives and all the solar-powered gadgets put to practical use during deep space exploration."
—The Associated Press

"If you like hard SF with mind-stretching ideas—both physical and psychological—then you definitely want to read this book."
—Analog

"It's been more than 40 years since Ringworld and nearly that long since the Galactic Center Saga knocked our socks off, and I wonder how much it takes these days to render us barefoot and gaping at the scale and scope of an imaginary world. . . . But Benford & Niven have given themselves the space (conceptual and page-count) to spread out. Bowl of Heaven has room to accommodate both the thrill-ride and head-scratching sides of its sub-tradition, and I think when the second half appears, this new effort by two of the Old Masters will hold its own just fine."
—Locus

"First-time collaborators Niven (Ringworld series; coauthor, Beowulf's Children) and Benford (Timescape; Galactic Center series) have combined their award-winning talents for storytelling to create a series opener that should find a welcome reception from fans of the authors as well as those who love hard science and mental challenges."
—Library Journal

"A solid work that will appeal to fans of classic hard SF."
—Publishers Weekly

Praise for Larry Niven:

"Niven lifts the reader far from the conventional world—and does it with a dash."
—Los Angeles Times

"The premier hard-SF writer of the day."
—The Baltimore Sun


Praise for Gregory Benford:

"Benford is one of our best."
—Greg Bear, bestselling and award-winning author of Eon

"What sets Benford apart from most of the high-tech literary herd is his gift for characterization and language, his refusal to let gadgets overwhelm the people in his stories.... Benford never lets his characters become the animated cardboard cutouts that afflict too many hard science fiction stories."
—San Francisco Chronicle
or
Not Currently Available for Direct Purchase