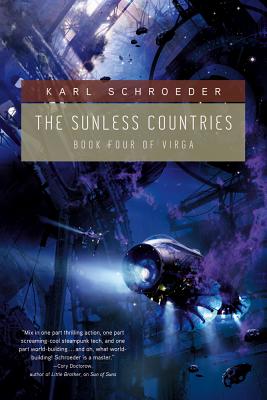 The Sunless Countries
Book Four of Virga
Paperback

* Individual store prices may vary.
Other Editions of This Title:
Digital Audiobook (8/3/2009)
Hardcover (8/4/2009)
Description
The Sunless Countries is the fourth novel in the Virga series of hard science fiction space opera adventures

In an ocean of weightless air where sunlight has never been seen, only the running lights of the city of Pacquaea glitter in the dark. One woman, Leal Hieronyma Maspeth, lives and dreams of love among the gaslit streets and cafés. And somewhere in the abyss of wind and twisted cloud through which Pacquaea eternally falls, a great voice has begun speaking.

As its cold words reach from space to the city walls—and as outlying towns and travelers' ships start to mysteriously disappear—only Leal has the courage to try to understand the message thundering from the distance. Even the city's most famous and exotic visitor, the sun lighter and hero named Hayden Griffin, refuses to turn aside from his commission to build a new sun for a foreign nation. He will not become the hero that Leal knows the city needs; so it is up to her to listen, and ultimately reply, to the voice of the worldwasp—because an astonishing disaster threatens Virga.
Praise For The Sunless Countries: Book Four of Virga…
"Inventive and solidly enjoyable… Schroeder paints his unique world with deft touches while keeping the story moving briskly." —Publishers Weekly, on The Sunless Countries

"I loved it. It never slowed down. The background is fascinating and the characters held my attention. It reminded me a little of The Integral Trees, with technology a little more advanced." —Larry Niven on Sun of Suns

"Schroeder...is proving to be one of our most ingenious devisers of exotic, fantastic settings as well as a spinner of ripping yarns....Schroeder's world-building, storytelling, and character-drawing chops seem strong enough to give even Known Space a run for its money." —Locus on Queen of Candesce

"[The] world-building continues to be impeccable, and the story's timing is a fantastic tour de force of his creation. The politics and structure of Virga continue to be a fine backdrop to some of the most entertaining space opera out there." —Booklist on Pirate Sun

"Ashes of Candesce brings the Virga saga to an operatic, crashing finale; a splendid climax to the hard SF saga of the decade!" —Charles Stross on Ashes of Candesce

"A delight, a source of seemingly endless invention…." —Locus on Pirate Sun

"With Queen of Candesce, Karl Schroeder's Virga saga establishes itself as an SF saga of the same order as LeGuin's Earthsea series, Asimov's Robot stories, and Niven's Ringworld stories." —SFRevu

"A fantastically alchemical tale set in a strange yet utterly real world. Hayden is a complex and well-developed protagonist and Schroeder is a amazingly detailed writer whose world-building is superb." —RT Reviews on Sun of Suns
Tor Books, 9780765328472, 336pp.
Publication Date: May 8, 2012
About the Author
KARL SCHROEDER is a professional futurist as well as one of Canada's most popular science fiction and fantasy authors. He divides his time between writing and conducting workshops and speaking on the potential impacts of science and technology on society. He is the author of The Million, as well as a half-dozen previous SF novels.