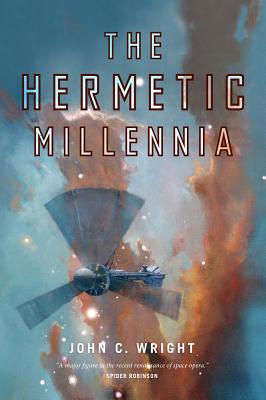 The Hermetic Millennia (Hardcover)
Tor Books, 9780765329288, 399pp.
Publication Date: December 24, 2012
Other Editions of This Title:
Paperback (11/19/2013)
* Individual store prices may vary.
Description
Continuing from "Count to a Trillion," Menelaus Illation Montrose Texas gunslinger, idealist, and posthuman genius has gone into cryo-suspension following the discovery that, in 8,000 years, a powerful alien intelligence will reach Earth to assess humanity's value as slaves. Montrose intends to be alive to meet that threat, but he is awakened repeatedly throughout the centuries to confront the woes of an ever-changing and violent world, witnessing millennia of change compressed into a few years of subjective time. The result is a breathtaking vision of future history like nothing before imagined: sweeping, tumultuous, and evermore alien, as Montrose's immortal enemies and former shipmates from the starship "Hermetic "harness the forces of evolution and social engineering to continuously reshape the Earth in their image, seeking to create a version of man the approaching slavers will find worthy.
About the Author
JOHN C. WRIGHT is an attorney turned SF and fantasy writer. He has published short fiction in Asimov's SF and elsewhere, and wrote the Chronicles of Chaos, The Golden Age, and The War of Dreaming series. His novel Orphans of Chaos was a finalist for the Nebula Award in 2005. The Hermetic Millennia is his second novel in the Count to a Trillion series.
Praise For The Hermetic Millennia…
Praise for Count to a Trillion:
"R . A. Lafferty meets A. E. Van Vogt in a cakewalk through a future full of antimatter, alien artifacts, transhumans, an Iron Ghost, a Texas gunfighter, and a Space Princess. Well worth the price of admission.
—Michael Flynn, author of The January Dancer
"This is much more than a space opera, and fills your mind with intriguing, startling possibilities. John Wright's novel is bursting with ideas, blending mythology, machine and human evolution, mathematics, space travel, and much more. The hero, Montrose, is caught in the crosshairs of deadly, highly unusual foes—and his fate could very well determine the fate of everyone on Earth. Ultimately this is about human survival and potential, the future of mankind across a trillion star systems."
—Brian Herbert, coauthor of the Dune series
"Spectacularly clever…in weaving together cutting-edge speculation along the outer fringes of science. Highly impressive."
—Kirkus Reviews
or
Not Currently Available for Direct Purchase