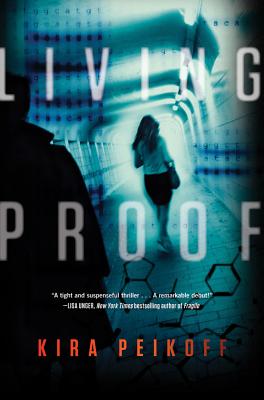 Living Proof (Hardcover)
Tor Books, 9780765329301, 368pp.
Publication Date: February 28, 2012
Other Editions of This Title:
Digital Audiobook (2/27/2012)
Paperback (12/24/2012)
Mass Market (12/24/2012)
* Individual store prices may vary.
Description
In 2027, destroying an embryo is considered first-degree murder. Fertility clinics still exist, giving hope and new life to thousands of infertile families, but they have to pass rigorous inspections by the United States Department of Embryo Preservation. Fail an inspection, and you will be prosecuted.
Brilliant young doctor Arianna Drake seems to be thriving in the spotlight: her small clinic surpasses every government requirement, and its popularity has spiked--a sudden, rapid growth that leaves the DEP chief mystified. When he discovers Arianna's radical past as a supporter of an infamous scientist, he sends undercover agent Trent Rowe to investigate her for possible illegal activity.
As Trent is pulled into Arianna's enigmatic world, his own begins to unravel. The secret he finally uncovers will deeply move him--and jeopardize them both. With the clock ticking her life away, he finds himself questioning everything he knows to be true, and then must summon the courage to take the greatest risk of all. Nothing less than human life--and a major scientific breakthrough--hang in the balance.
A thought-provoking thriller by debut author Kira Peikoff, "Living Proof" is a celebration of love and life that cuts to the core of a major cultural debate of our time.
About the Author
KIRA PEIKOFF has written for New York "Daily News," "The Orange County Register," "Newsday," and "New York "magazine. She holds a bachelor's degree in journalism from NYU and is currently working on her second novel.
Praise For Living Proof…
Praise for Living Proof: "Taut, energetic, and imaginative... A remarkable debut!"
—Lisa Unger, New York Times bestselling author of Fragile
"Risky, daring. This story reminded me of the best of Margaret Atwood: a chilling and tangible portrait of the near future, where the best and the worst of humanity is challenged at every turn." —James Rollins,
New York Times
bestselling author of
Altar of Eden
"Kira Peikoff's imagination is a wonder to behold and an amazing place to visit. You have to check this one out."
—Steve Berry,
New York Times
bestselling author of
The Jefferson Key
"A terrific read—tightly woven and tense as a coiled snake."
—Michael Palmer,
New York Times
bestselling author of
A Heartbeat Away
"
Living Proof
is a rare book. A thriller that keeps you turning pages. A novel of suspense fraught with danger… Kira Peikoff belongs to a very small cadre of writers to watch… I cannot wait to see what she writes next!"
—M. J. Rose, international bestselling author of
The Hypnotist
 "Makes you think, makes you sweat, leaves you happy—everything a good book should."
—Lee Child,
New York Times
bestselling author of the Jack Reacher novels "A compelling and thought-provoking thriller…this frighteningly plausible novel will keep you turning the pages all night long. A stunning debut."
—Douglas Preston,
New York Times
bestselling author of
Impact
 "Peikoff's unsettling, timely debut presents an uncomfortably plausible near-future, in which the destruction of all human embryos has been outlawed in the name of saving the lives of unborn children. … This engaging effort marks her as an author to watch."
—
Publishers Weekly
"[Peikoff] has taken serious cultural debates from our present-day society and blended them into a tale that's not very fantastical, since we're not far off from bringing this extremely frightening story to life….[Peikoff] will find legions of fans that will admire her 'moxie' and look forward to her second novel. For anyone interested in a writer who cuts to the chase over a highly difficult subject, this is the book for you."
—Suspense Magazine
"Living Proof is a well-written thriller that deals with issues of great relevance in today's world: When exactly does an embryo become a human being? Whose life is of most value? To her great credit, Peikoff creates believable, well-rounded characters who represent both sides of a tough moral question."
—Mystery Scene Magazine
"The two protagonists are dealing with life and death and even love at a time when religious fanatics are allowed to carry guns into fertility clinics, and scientists are under microscopes. Living Proof is a startling, perceptive debut that examines repercussions for the future if emotion is allowed to trump knowledge."
—Award-winning reviewer Lesa Holstine
"Not only does the book force the reader to think about larger issues, but the journey of the characters, and their change in ideology and purpose as the narrative proceeds is so multi-layered and advanced for a debut novel, and worth reading for that alone."
—Chantelle Aimee Osman, Poisoned Pen Bookstore
"An intense, thought-provoking thrill ride that will linger within your subconscious long after you have read it. If you are looking for a sharp, fast-paced 
knockout of a novel that pushes its reader to the edge and forces self reflection and contemplation, then this is a must."
—Guy Lopez, Vroman's bookstore
or
Not Currently Available for Direct Purchase