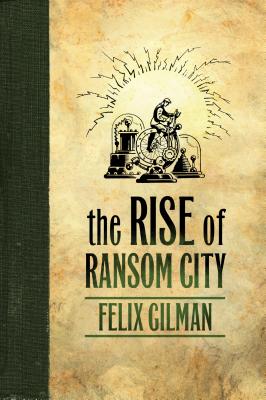 The Rise of Ransom City (The Half-Made World #2) (Paperback)
Tor Books, 9780765329417, 368pp.
Publication Date: August 13, 2013
Other Editions of This Title:
Hardcover (11/27/2012)
MP3 CD (5/3/2016)
* Individual store prices may vary.
Description
In The Half-Made World, Felix Gilman took readers deep into a world on the cusp of forging an identity. The Line, a cult of Industry, and the Gun, a mission of Chaos, were engaged in a war for dominance. The Line was winning city by city, enslaving the populations it conquered. A doctor of psychology, Liv Alverhuysen, was caught in the middle, unknowingly guarding a secret that both sides would do anything to have.
Now, in the amazing sequel Rise of Ransom City, Liv is lost on the edge of the world with Creedmor, an agent of the Gun, and the powerful Line will stop at nothing to find them. But Harry Ransom, half con man, half mad inventor, is setting the edge of the world aglow. Town by town he is building up a bankroll and leaving hope in his wake because one of his inventions is actually working. But his genius is not going unnoticed, and when he crosses paths with the two most wanted outlaws in the "unmade world," his stage becomes even larger and presents an opportunity more lucrative than any of his scams or inventions combined.
About the Author
FELIX GILMAN has been nominated for the John W. Campbell and Locus awards for best new writer. He is the author of the critically acclaimed Thunderer and Gears of the City, and The Half-Made World, which was listed by Amazon as one of the ten best SFF novels of 2010. He lives with his wife in New York City.
Praise For The Rise of Ransom City (The Half-Made World #2)…
"On my being handed the book now in your hands, I promised myself - tacitly, of course - I'd only take a peek. But will you look at what's happened? Mr. Gilman's appeal promptly poured itself all over me, and I, by golly, in superb reciprocity, pored all over his pages from first to last. Is this not the joy in reading, no less in being? - enforced attention, the delightsome entrapment, a thorough-going filling and the rare repose of one's having been emptied -- utterly, gratefully - out?" —Gordon Lish on Rise of Ransom City
"Felix Gilman has a sly wit and an assured hand. He is a fresh and original voice in fantasy." —Lavie Tidhar, author of Osama on Rise of Ransom City
"A fantasy that Mark Twain would have been proud to write. Felix Gilman's theme is nothing less than the Matter of America, the story at the root of the whole continent. Never has fantasy been darker, cleverer, more sly, or more touching in its refraction of our own world. I scratch my head in awe." —Francis Spufford, author of Red Plenty on Rise of Ransom City
"This sequel to The Half-Made World stands well alone; written like an old-fashioned memoir, it seamlessly blends whimsy with deadly seriousness." —Publishers Weekly on Rise of Ransom City
"Like The Half-Made World that came before it, The Rise of Ransom City brings us a re-imagined tale of America's Old West, mixing steampunk and magic realism to great effect." —Kirkus Reviews ("Best SF/F Reads In November") on Rise of Ransom City
"Gripping, imaginative, terrifically inventive . . . We haven't had a science fiction novel like this for a long time." —Ursula LeGuin on The Half Made World
"The Half-Made World takes the brutality of the wild west and twists it into an epic fantasy that left me staggered. It brings the sense of wonder back to fantasy by creating a complex and visceral world unlike anything I've read. This is a stunning novel." —Mary Robinette Kowal on The Half Made World
"'Refreshingly unlike any other novel I've read. Felix Gilman writes like a modern-day Dickens drunk on rich invention and insane war." —Stephen Donaldson, author of The Chronicles of Thomas Covenant on The Half Made World
"A much-needed breath of fresh air in dystopian fiction. Utterly compelling. Trembling with invention and adventure. Reads as if it's the love-child of McCarthy's The Road and Le Guin's The Dispossessed. Highly recommended!" —Eric Van Lustbader on The Half Made World
"Felix Gilman's third novel is his best, and a somewhat stunning mix of Cormac McCarthy and Steampunk." —Jeff Vandermeer on The Half Made World
"Great fantastical fiction has a way of suggesting metaphorical connections without insisting on them . . . The Half Made World does this with an exhilarating level of self-assurance. . . Reading this novel will make anyone who cares about dark adventure giddy." —The Onion AV Club (A) on The Half Made World
"Represents everything great science fiction should aspire to." —The Cleveland Plain Dealer on The Half Made World
"New and exciting and well worth reading" —io9 on The Half Made World
"This enormously creative, complex tale uses every trope - and transforms it - in the service of a greater vision that never really forgets its roots. . . . Alternately lyrical and scatalogical, brutal and haunted . . . For all its wild adventures, the object of [Gilman's] attention in The Half Made World is no less than America itself." —Locus on The Half Made World
"A page-turning narrative, engagingly complex characters, and deftly descriptive prose. . . . The Half-Made World is custom-made for those looking for a dark dystopia filled with weird west, gritty steampunk, and literary intertexts.weird west, gritty steampunk, and literary intertexts." —Tor.com on The Half Made World