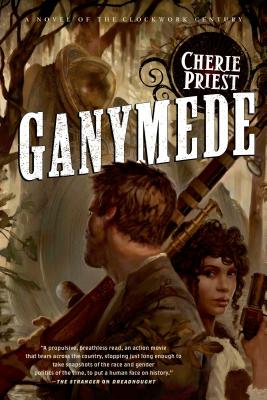 Ganymede (Paperback)
Tor Books, 9780765329462, 349pp.
Publication Date: September 27, 2011
Description
The air pirate Andan Cly is going straight. Well, straight"er." Although he's happy to run alcohol guns wherever the money's good, he doesn't think the world needs more sap, or its increasingly ugly side-effects. But becoming legit is easier said than done, and Cly's first legal gig a supply run for the Seattle Underground will be paid for by sap money.
New Orleans is not Cly's first pick for a shopping run. He loved the Big Easy once, back when he also loved a beautiful mixed-race prostitute named Josephine Early but that was a decade ago, and he hasn't looked back since. Jo's still thinking about him, though, or so he learns when he gets a telegram about a peculiar piloting job. It's a chance to complete two lucrative jobs at once, one he can't refuse. He sends his old paramour a note and heads for New Orleans, with no idea of what he's in for or what she wants him to fly.
But he won't be flying. Not exactly. Hidden at the bottom of Lake Pontchartrain lurks an astonishing war machine, an immense submersible called the "Ganymede." This prototype could end the war, if only anyone had the faintest idea of how to operate it . If only they could sneak it past the Southern forces at the mouth of the Mississippi River If only it hadn't killed most of the men who'd ever set foot inside it.
But it's those "if onlys" that will decide whether Cly and his crew will end up in the history books, or at the bottom of the ocean.
About the Author
Cherie Priest is the author of Dreadnought and Boneshaker, which was nominated for a Nebula and Hugo Award, won the Locus Award for best science-fiction novel, and was named Steampunk Book of the Year by steampunk.com. She is also the author of the near-contemporary fantasy Fathom, and she debuted to great acclaim with Four and Twenty Blackbirds, Wings to the Kingdom, and Not Flesh Nor Feathers, a trilogy of Southern Gothic ghost stories featuring heroine Eden Moore. Born in Tampa, Florida, Priest earned her master's in rhetoric at the University of Tennessee. She lives in Seattle, Washington, with her husband, Aric, and a fat black cat named Spain.
Praise For Ganymede…
Praise for The Clockwork Century:

"An intimate, well-crafted portrait of a nurse on a mission adds depth to this exceptional Civil War steampunk thriller."
--Publishers Weekly, starred review, on Dreadnought

"Dreadnought offers plenty of fun: fast-paced battle scenes, thundering locomotives and the gem of the book, its heroine. Vivid, believable and endearingly stubborn, she's an enjoyable companion for those taking the time to read a book which challenges the notion that steampunk must assume Victorian attitudes with its goggles and corsets."
--Seattle Times

"Boneshaker is without a doubt Cherie Priest's breakthrough work: this hollering, stamping, crackling thing is the best fun you'll have with a book all year."
--Warren Ellis

"A propulsive, breathless read, an action movie that tears across the country, stopping just long enough to take snapshots of the race and gender politics of the time, to put a human face on history."
--The Stranger on Dreadnought
Advertisement