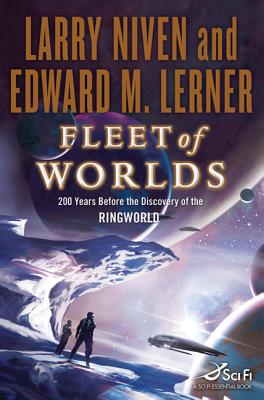 Fleet of Worlds
200 Years Before the Discovery of the Ringworld (Known Space #2)
Paperback

* Individual store prices may vary.
Other Editions of This Title:
Digital Audiobook (11/26/2007)
Compact Disc (11/27/2007)
MP3 CD (11/27/2007)
Mass Market (8/26/2008)
Description
Fleet of Worlds marks Larry Niven's first full novel-length collaboration within his Known Space universe, the playground he created for his bestselling Ringworld series. Teaming up with fellow SF writer Edward M. Lerner, Fleet of Worlds takes a closer look at the Human-Puppeteer (Citizens) relations and the events leading up to Niven's first Ringworld novel.

Kirsten Quinn-Kovacs is among the best and brightest of her people. She gratefully serves the gentle race that rescued her ancestors from a dying starship, gave them a world, and nurtures them still. If only the Citizens knew where Kirsten's people came from….

A chain reaction of supernovae at the galaxy's core has unleashed a wave of lethal radiation that will sterilize the galaxy. The Citizens flee, taking their planets, the Fleet of Worlds, with them.

Someone must scout ahead, and Kirsten and her crew eagerly volunteer. Under the guiding eye of Nessus, their Citizen mentor, they explore for any possible dangers in the Fleet's path—and uncover long-hidden truths that will shake the foundations of worlds.
Praise For Fleet of Worlds: 200 Years Before the Discovery of the Ringworld (Known Space #2)…
"Great storytelling is still alive in science fiction because of Larry Niven, and his finest work is the Ringworld series." —Orson Scott Card, bestselling author of Ender's Game

"For three and a half decades, nobody's done it better than Larry Niven." —Steven Barnes

"Niven is an undisputed master in the field.." —David Gerrold
Tor Books, 9780765329486, 304pp.
Publication Date: November 8, 2011
About the Author
Larry Niven is the award-winning author of the Ringworld series, along with many other science fiction masterpieces and fantasy including the Magic Goes Away series. His Beowulf's Children, co-authored with Jerry Pournelle and Steven Barnes, was a New York Times bestseller. He has received the Nebula Award, five Hugos, four Locus Awards, two Ditmars, the Prometheus, and the Robert A. Heinlein Award, among other honors. He lives in Chatsworth, California.

Edward M. Lerner worked in high tech for thirty years, as everything from engineer to senior vice president, for much of that time writing science fiction as a hobby. Since 2004 he has written full-time, and his books run the gamut from technothrillers, like Small Miracles, to traditional SF, like his InterstellarNet series, to, with Larry Niven, the grand space epic Fleet of Worlds series of Ringworld companion novels.   Ed's short fiction has appeared in anthologies, collections, and many of the usual science fiction magazines. He also writes the occasional nonfiction article, on topics as varied as asteroid deflection, privacy (or lack thereof) in the Internet age, and the role of communications in SF.