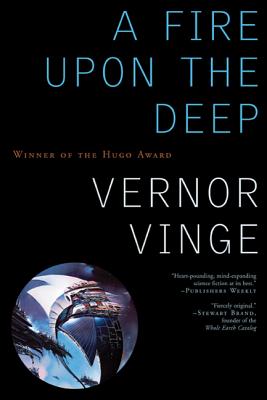 A Fire Upon The Deep (Zones of Thought #1) (Paperback)
Tor Books, 9780765329820, 432pp.
Publication Date: August 1, 2011
Other Editions of This Title:
Digital Audiobook (1/17/2010)
Mass Market (2/15/1993)
Paperback (5/5/2020)
Paperback (1/1/2011)
* Individual store prices may vary.
Description
In 1992 Vernor Vinge amazed the science fiction world with this epic novel of star-spanning adventure. It won the Hugo Award for Best Novel, and has since become a landmark in the field. Now, with the long awaited sequel The Children of the Sky about to be published, we are proud to offer the first-ever trade paperback edition of this big-screen SF classic.
A Fire Upon The Deep is the winner of the 1993 Hugo Award for Best Novel.
About the Author
Vernor Vinge has won five Hugo Awards, including one for each of his last three novels, A Fire Upon the Deep (1992), A Deepness in the Sky (1999), and Rainbow's End (2006). Known for his rigorous hard-science approach to his science fiction, he became an iconic figure among cybernetic scientists with the publication in 1981 of his novella "True Names," which is considered a seminal, visionary work of Internet fiction. His many books also include Marooned in Realtime and The Peace War. Born in Waukesha, Wisconsin and raised in Central Michigan, Vinge is the son of geographers. Fascinated by science and particularly computers from an early age, he has a Ph.D. in computer science, and taught mathematics and computer science at San Diego State University for thirty years. He has gained a great deal of attention both here and abroad for his theory of the coming machine intelligence Singularity. Sought widely as a speaker to both business and scientific groups, he lives in San Diego, California.
Praise For A Fire Upon The Deep (Zones of Thought #1)…
"Heart-pounding, mind-expanding science fiction at its best." —Publishers Weekly (starred review)
"A Fire Upon the Deep by Vernor Vinge is a genuine galactic epic. Weaving a large cast of humans and aliens, Vinge tells an exciting story in space and on several planets packed with ideas and wonder. This is big-scale science fiction at its best." —Fred Cleaver, the Denver Post
"Vast, riveting far-future saga involving evil gods, interstellar war, and manipulative aliens, from the author of The Peace War and the splendid Marooned in Realtime. No summary can do justice to the depth and conviction of Vinge's ideas. The overall concept astonishes; the aliens are developed with memorable skill and insight; the plot twists and turns with unputdownable tension." —Kirkus Reviews, starred review
"Thoughtful space opera at its best, this book delivers everything it promises in terms of galactic scope, audacious concepts, and believable characters both human and nonhuman." —The New York Times Book Review
"Vinge, whose characters are as interesting as the science this time, has produced a cosmic epic the equal of any in recent years." —The Houston Post
"Vernor Vinge's A Fire Upon the Deep is a wide-screen science fiction epic of the type few writers attempt any more, probably because nobody until Vinge has ever done it well. It has Hugo Winner written all over it." —The Washington Post Book World