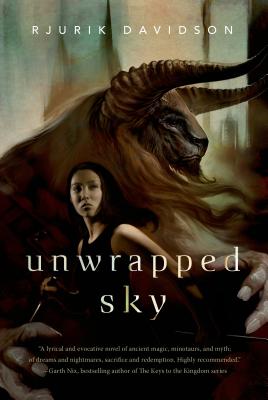 Unwrapped Sky (Hardcover)
Tor Books, 9780765329882, 430pp.
Publication Date: April 15, 2014
Other Editions of This Title:
Mass Market Paperbound (3/3/2015)
* Individual store prices may vary.
Description
A hundred years ago, the Minotaurs saved Caeli-Amur from conquest. Now, three very different people may hold the keys to the city's survival.
Once, it is said, gods used magic to create reality, with powers that defied explanation. But the magic or science, if one believes those who try to master the dangers of thaumaturgy now seems more like a dream. Industrial workers for House Technis, farmers for House Arbor, and fisher folk of House Marin eke out a living and hope for a better future. But the philosopher-assassin Kata plots a betrayal that will cost the lives of godlike Minotaurs; the ambitious bureaucrat Boris Autec rises through the ranks as his private life turns to ashes; and the idealistic seditionist Maximilian hatches a mad plot to unlock the vaunted secrets of the Great Library of Caeli-Enas, drowned in the fabled city at the bottom of the sea, its strangeness visible from the skies above.
In a novel of startling originality and riveting suspense, these three people, reflecting all the hopes and dreams of the ancient city, risk everything for a future that they can create only by throwing off the shackles of tradition and superstition, as their destinies collide at ground zero of a conflagration that will transform the world . . . or destroy it.
"Unwrapped Sky "is a stunningly original debut by Rjurik Davidson, a young master of the New Weird.
About the Author
Rjurik Davidson has been an Associate Editor of Overland magazine, as well as a writer of short stories, essays, screenplays and reviews. His work has been published in Postscripts, Years Best Australian Science Fiction and Fantasy, Volumes One, Two and Four, Australian Dark Fantasy and Horror 2006, SciFiction, Aurealis, Borderlands and elsewhere. A collection of short stories, The Library of Forgotten Books, was published by PS Publishing. He has been short-listed for the Ditmar Award for Best Short Story three times, has won the Aurealis Award, and also won the Ditmar award for Best New Talent in 2005.
or
Not Currently Available for Direct Purchase