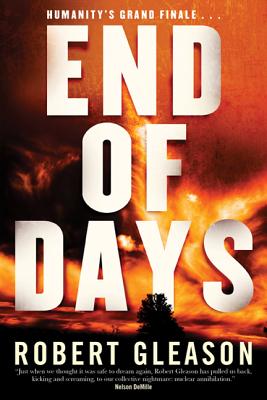 End of Days (Hardcover)
Forge, 9780765329929, 490pp.
Publication Date: August 30, 2011
* Individual store prices may vary.
or
Not Currently Available for Direct Purchase
Description
Born from the fear of nuclear annihilation and painstakingly researched for over twenty years, Robert Gleason's "End of Days" is a thriller unlike any other.
Lydia Lozen Magruder the great-granddaughter of a female Apache war-shaman has seen visions of the End since childhood. She has constructed a massive ranch-fortress in the American Southwest, stocked with everything necessary to rebuild civilization.
Now her visions are coming true. John Stone, once a baseball star and now a famous gonzo journalist, stumbled across a plan to blast humanity back to the stone age. Then he vanished. Lydia's only hope of tracking him down lies with her stubborn, globe-trotting daughter, Kate, Stone's former lover.
Kate is about to step right into the plotters' crosshairs. Stone has been captured by a pair of twin Middle Eastern princesses, hell-bent on torturing him until he reveals all he knows.
Meanwhile, a Russian general obsessed with nuclear Armageddon has also disappeared...as have eight or more of his Russian subs, armed with nuclear-tipped missiles.
The world is armed for self-destruction.
Who will survive?
About the Author
ROBERT GLEASON was born in Michigan City, Indiana. He has an AB in English literature from Indiana University, a master's degree in English from the University of Wisconsin and Le Premier Degre a la Sorbonne. He has written more than a dozen novels. The History Channel recently featured him in their two hour special, Prophets of Doom.
Praise For End of Days…
"Gleason's work with Junius Podrug on such novels as Apocalypse 2012 and The 2012 Code has made him an expert on all things apocalyptic, a subject he returns to with gusto in this wildly expansive tale of the coming End Times…It all adds up to a thrilling take on a frighteningly possible future, one that makes the journey in Cormac McCarthy's The Road look like a stroll through the park."
--Publishers Weekly (starred review) on End of Days
 "Gleason tackles Armageddon and emerges with one of the best end-of-the-world thrillers in quite some time…The combination of resonant myth and on-the-ground reality delivers a narrative knockout punch. Comparisons to Stephen King's The Stand and Robert McCammon's Swan Song are well founded, but Gleason's novel is in a class by itself."--Booklist (starred review) on End of Days
"Multilayered …the book includes many military and scientific details to add verisimilitude . . . Fans of such nuclear apocalyptic fiction as Nevil Shute's On the Beach will enjoy this exciting addition to the genre."
--Library Journal on End of Days
"Just when we thought it was safe to dream again, Robert Gleason has pulled us back, kicking and screaming, to our collective nightmare: nuclear annihilation."
--Nelson DeMille, New York Times bestselling author of The Gate House

"What an amazing story, sweeping in scope, terrifying, uplifting, outrageous, funny, and shocking, forming an unforgettable picture of humanity's 'end of days.'…A story for the ages."
--Douglas Preston, New York Times bestselling author of Impact

"Robert Gleason has been to the jagged edge of the pit and peeped in; he's been seared by the heat of the eternal furnace, smelled the brimstone, listened to the mournful wailing of the damned. The Dante of our age, he's back to tell us about it."
--Stephen Coonts, New York Times bestselling author of The Assassin
"Gleason does for the end of the world what Milton did for Hell itself."
--W. Michael and Kathleen O'Neal Gear, New York Times bestselling authors of Fire the Sky and The Dawn Country, on End of Days


"Gleason has been pondering the inevitability of a Nuclear Apocalypse for more than twenty years. His thoughts are now words. . . . Once you enter his nightmare world, you'll race wildly through it to find the nearest exit---only to realize that End of Days is not a dream. It's just tomorrow arriving a day early. Let us hope it inspires all of us to take action."
--William S. Cohen, former secretary of defense, U.S. senator, and New York Times bestselling author of Dragon Fire

"One twist and turn after another. Scary and compelling. A devious plot, it's spun by a stellar hand, check it out."
--Steve Berry, New York Times bestselling author of The Emperor's Tomb

"This masterful tale of the risks of nuclear Armageddon---and much, much more---can only be compared in its imaginative impact with the seminal novels of the "What-if?" genre---John Buchan's Greenmantle leaps to mind, as well as Nevil Shute's On the Beach---in the sense that this novel is groundbreaking and peerless in its time."
--Lt. Colonel Ralph Peters (U.S. Army, ret.), New York Times bestselling author of The War After Armageddon and The Officers' Club

"A devious, believable tale packed with action and atmosphere. Gleason is at the top of his form, and you'll hate to see it end. Given current world events, his story unfortunately isn't that farfetched. The end may be closer than you think."
--General Sid Shachnow (U.S. Army/Special Forces, ret.)

"Reads like a dark prophecy. A brilliantly conceived, ferocious journey into the final fire, it swept me up with its blazing intensity. A heart-stopping reading experience."
--Whitley Strieber, New York Times bestselling author of Hybrids, on End of Days

"The ride of a lifetime—or more accurately…of a deathtime! Written in 3-D, it will take a Spielberg to make a movie of it!"
--David Black, winner of two Edgars, a dozen Emmy and Writers Guild nominations and awards, as well as the author of The Extinction Event, on End of Days

"The Road on steroids!"
--Jon Land, award-winning author of Strong at the Break, on End of Days

"One of the reading experiences of my lifetime. Seldom if ever have I read a book that combined such literary power with a factual background that induced those basic components of tragedy, fear, and pity. Talk about being riveted to the page! I was transmuted!"
--Thomas Fleming, winner of the Lincoln Prize for Lifetime Achievement in History, former president of the American Society of Historians and of PEN, and New York Times bestselling author of The Secret Trial of Robert E. Lee, on End of Days

"Readers diving into Gleason's world will never be the same again End of Days is a nuclear warhead of a novel, which could do for the anti-proliferation movement what Silent Spring did for environmentalism. People will inevitably compare End of Days to such apocalyptic masterworks as The Stand, Left Behind, Swan Song, Fail Safe, Dr. Strangelove, and The Sum of All Fears, but in truth there are no comparisons. End of Days dwarfs all previous efforts. A vision old as the Bible, violent as Armageddon itself, End of Days is more than a novel. It is the fulfillment of Revelation, Nostradamus, and all the ancient apocalyptic scrolls rolled into one. This is the End Time writ large. Bravo! Hats off! I wish I could have written End of Days, but I'm man enough to admit that I could not have done it for all the tea in China!"
--David Hagberg, New York Times bestselling author of The Expediter
Advertisement