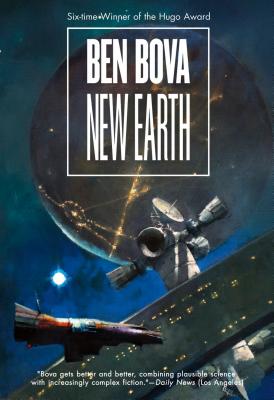 New Earth (Hardcover)
Tor Books, 9780765330185, 384pp.
Publication Date: July 16, 2013
Other Editions of This Title:
Digital Audiobook (7/15/2013)
Paperback (7/1/2014)
Pre-Recorded Audio Player (7/16/2013)
Compact Disc (7/16/2013)
Compact Disc (7/16/2013)
MP3 CD (7/16/2013)
* Individual store prices may vary.
Description
Award-winning author Ben Bova brings us New Earth, his latest tale of science fiction in his Grand Tour series.
The entire world is thrilled by the discovery of a new Earthlike planet. Advance imaging shows that the planet has oceans of liquid water and a breathable oxygen-rich atmosphere. Eager to gain more information, a human exploration team is soon dispatched to explore the planet, now nicknamed New Earth.
All of the explorers understand that they are essentially on a one-way mission. The trip takes eighty years each way, so even if they are able to get back to Earth, nearly 200 years will have elapsed. They will have aged only a dozen years thanks to cryonic suspension, but their friends and family will be gone and the very society that they once knew will have changed beyond recognition. The explorers are going into exile, and they know it. They are on this mission not because they were the best available, but because they were expendable.
Upon landing on the planet they discover something unexpected: New Earth is inhabited by a small group of intelligent creatures who look very much like human beings.
Who are these people? Are they native to this world, or invaders from elsewhere?
While they may seem inordinately friendly to the human explorers, what are their real motivations? What do they want?
Moreover, the scientists begin to realize that this planet cannot possibly be natural. They face a startling and nearly unthinkable question: Could New Earth be an artifact?
About the Author
BEN BOVA is a six-time winner of the Hugo Award, a former editor of Analog, former editorial director of Omni, and a past president of both the National Space Society and the Science Fiction Writers of America. Bova is the author of more than a hundred works of science fact and fiction. He lives in Florida.
Praise For New Earth…
"Bova proves himself equal to the task of showing how adversity can temper character in unforeseen ways."
---The New York Times

"Bova gets better and better, combining plausible science with increasingly complex fiction."
---Daily News (Los Angeles)

"[Bova's] excellence at combining hard science with believable characters and an attention-grabbing plot makes him one of the genre's most accessible and entertaining storytellers."
---Library Journal
Praise For Leviathans of Jupiter

"Bova's fans and hard SF lovers should flock to his latest novel."
—Library Journal

"A quick-paced space adventure."
 —Publishers Weekly
or
Not Currently Available for Direct Purchase