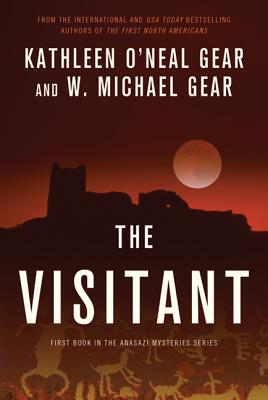 The Visitant (Paperback)
Book I of the Anasazi Mysteries
Tor Books, 9780765330437, 432pp.
Publication Date: October 25, 2011
Other Editions of This Title:
Mass Market Paperback (6/1/2000)
Mass Market Paperback (1/2/2008)
* Individual store prices may vary.
Description
With their bestselling First North Americans series, the Gears have astounded an avid international audience of millions. Now these master storytellers turn to the American Southwest, to one of the most enigmatic people to ever inhabit this continent—the Anasazi. At its pinnacle in A.D. 1150, their empire was vast and sophisticated, unequalled until the arrival of the Europeans—and then they simply disappeared.
Dr. Maureen Cole, one of the world's foremost physical anthropologists, is called in to examine and evaluate a mass grave discovered in New Mexico. The burial site contains nothing but the shatttered skulls of women and children. As Dr. Cole works to unravel the mystery of these deaths, strange things begin to happen around her. The walls of her laboratory crumble, her generator quits, and she begins to hear whispering voices emanating from the plastic bags of bones....
Available for the first time in a trade paperback edition, The Visitant is the first book in the Anasazi Mysteries series, which marked the beginning of an exciting new direction for the Gears—one sure to appeal to the Gears's large and dedicated following as well as fans of Tony Hillerman's Native American mysteries.
About the Author
Kathleen O'Neal Gear is a former state historian and archaeologist for Wyoming, Kansas, and Nebraska for the U.S. Department of the Interior. She has twice received the federal government's Special Achievement Award for "outstanding management" of our nation's cultural heritage. With her husband, W. Michael Gear, she is the co-author of many books, including the North America's Forgotten Past series (People of the Longhouse, The Dawn Country, People of the Mist, People of the Wolf, among others); and the Anasazi Mysteries series. She and her husband live in Thermopolis, WY.

W. Michael Gear, who holds a master's degree in archaeology, has worked as a professional archaeologist since 1978. He is currently principal investigator for Wind River Archaeological Consultants. With his wife, Kathleen O'Neal Gear, he has written the international and USA Today bestselling First North Americans Series and Anasazi Mystery Series.
Praise For The Visitant: Book I of the Anasazi Mysteries…
"A fun, fascinating tale." —The Colorado Springs Gazette on The Visitant
"Breathtaking descriptions evoke the harsh beauty of the desert, while the lucid, erudite historical perspectives are informed by the authors' own extensive archaeological experience." —Publishers Weekly on The Visitant